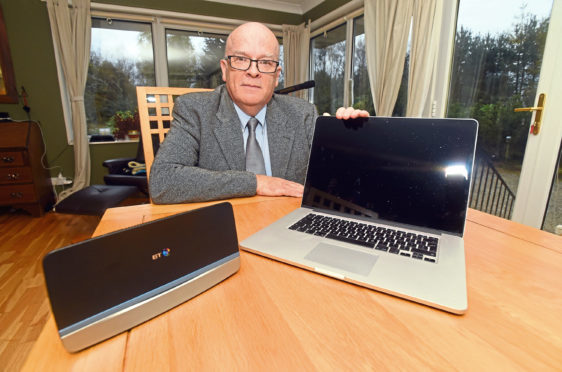 Residents of a north-east community said they feel "let down" by a government scheme to provide superfast broadband to rural areas.
In Kintore, residents are enjoying superfast broadband with speeds of 70 megabits per second (mbps).
However, one mile outside the town in areas such as Balbithan, Wester Fintray, Leylodge and Cottown, residents are only receiving average speeds of 1-3mbps.
Now they say the Scottish Government scheme Scotland Superfast has not delivered its pledge to bring superfast broadband to rural areas of Scotland.
Kintore and District Community Council member Ken McEwen, who lives in Balbithan, said: "A number of residents feel very let down by the Scottish Government.
"In our area, superfast broadband has been brought to absolutely no one. In fact, some have said it is as slow if not slower than before.
"Our average speeds are between 1 and 3mbps. The UK Government has said the minimum should be 10mbps."
Lorna Anderson, who also lives in Balbithan, added: "I have given up on my broadband and am now using unlimited data instead.
"It is very poor. Everyone who lives here was very optimistic and relieved when the Government unveiled these new plans.
"So for this to be the outcome is disappointing – we were expecting much more."
A Scottish Government spokesman said:"Across Aberdeenshire, more than 90% of premises have access to fibre broadband thanks to Digital Scotland Superfast Broadband, including in the village of Kintore.
"Some properties that are too far from fibre cabinet connection and are experiencing less than two megabits per second (Mbps), may be eligible for the Better Broadband Scheme, where vouchers towards a satellite service are provided.
"In the longer term, despite telecoms being the UK Government's responsibility, we are investing 97% of the initial £600 million to extend superfast access.
"We are aiming for speeds of 30 Mbps or better to every single home and business in Scotland by the end of 2021."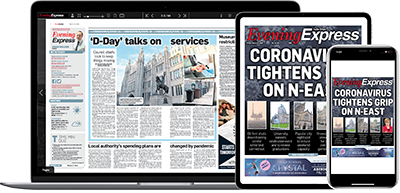 Help support quality local journalism … become a digital subscriber to the Evening Express
For as little as £5.99 a month you can access all of our content, including Premium articles.
Subscribe