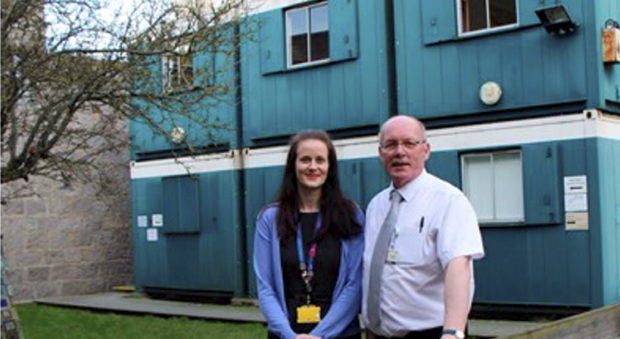 Health chiefs have launched a bid to create a new staff garden at an Aberdeen hospital.
NHS Grampian is hoping to raise around £200,000 to cover the costs of creating a staff garden area at Aberdeen Royal Infirmary (ARI) – similar to the site's Robertson Family Roof Garden.
A dedicated staff-only facility, it will be accessed via swipe card only and will be available 24 hours a day.
The garden will be located in the internal quadrangle, off the main corridor of ARI, in an area currently home to the Grampian Hospitals Art Trust portable buildings.
It is thought the project could cost around £200,000 which will be funded entirely from donations – as the Robertson Family Roof Garden is.
The Robertson Family Roof Garden opened in 2016 after four years of planning and discussions, and was spearheaded by healthcare chaplain Rev James Falconer – who is also running the new initiative.
He said: "We are building on the experience of the roof garden which has just been so incredibly successful in terms of being a positive place for relatives, patients and staff to use."
The garden will be able to be used by all staff and Mr Falconer said the project could be something that helps boost workers' health.
He added: "It will help the health and wellbeing of staff.
"We have just appointed the garden designer to take it forward, but we need to wait a bit before we appoint an architect.
"It's really quite an exciting development. The roof garden was really quite pioneering."
The health authority is currently encouraging staff to get involved.
A team from the physiotherapy department has already pledged to help and will be taking part in this year's Aberdeen Kiltwalk – a charity event with 26-mile, 14.1-mile and five-mile routes – on June 3.
Anyone with fundraising suggestions is asked to contact NHS Grampian via email at nhsg.staffgardenproject@nhs.net
To donate to the project, visit www.justgiving.com/fundraising/nhsgstaffgarden