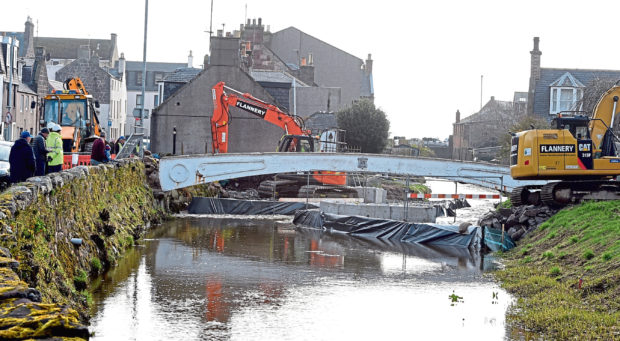 One of the north-east's oldest bridges has been removed as part of a multi-million-pound flood action scheme.
The 19th Century White Bridge in Stonehaven has spanned the River Carron for the last 140 years but now it is in storage and will not return to the site until next year.
The C-listed crossing from Cameron Street to Arbuthnott Street has been dismantled and removed as the £16 million flood prevention works continue.
The seaside town was devastated by flooding in 2009 and 2012 when the river burst its banks.
It led to residents in the town having to leave their homes for months while repairs were carried out.
Northern Ireland-based McLaughlin and Harvey is carrying out the flood works on behalf of Aberdeenshire Council.
Concerns had been raised by members of the community regarding the safeguarding of the historic bridge, however assurances have been given that specialists would be handling the removal.
Sheila Tolmie, community liaison officer at McLaughlin and Harvey, told the Evening Express their workers would make "every effort" to protect the crossing, which was built in 1879.
When the cast-iron structure does eventually return to the site, it will be a metre higher to fit in with the revamped flood measures.
It will be placed on a new concrete deck, which will link into the flood defence walls, allowing an increased capacity for floodwaters to be contained.
In 2017, when Aberdeenshire Council approved the scheme, it was not considered safe to lift the entire bridge.
Key features including the piers, parapet and decorative arch of the structure will be retained.
Sarah Dickinson, councillor for Stonehaven and Lower Deeside, said: "I would want to reassure residents who might have concerns that everyone involved with this project understands that the White Bridge is a much-loved and iconic structure.
"They have provided assurances that the bridge will now be carefully stored while the works in this area are ongoing and then carefully restored before being put back in place in about a year's time.
"It will be exciting to see its return at that point."
Phil Mills-Bishop, co-ordinator for the twinning group in Stonehaven, said: "From a resident and tourist or visitor point of view, the White Bridge is a familiar and historical attraction.
"The hope is that the present contractors will do what they have said they will do in ensuring that once the works are completed that it is restored back to its original position, form and function."
An Aberdeenshire Council spokesman said: "Works on the Stonehaven Flood Protection Scheme are progressing well.
"The removal of various trees and bushes necessary for the delivery of the scheme has been done and we are working closely with the contractor to deliver the next stages of the project."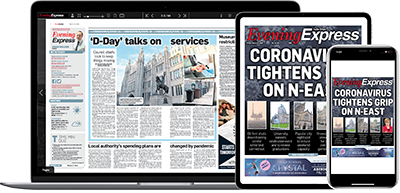 Help support quality local journalism … become a digital subscriber to the Evening Express
For as little as £5.99 a month you can access all of our content, including Premium articles.
Subscribe