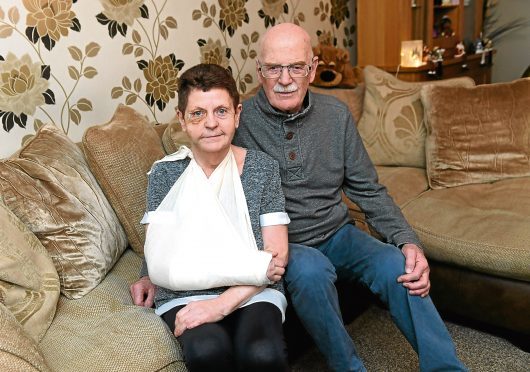 Accident and Emergency staff have seen more than a 200% increase in people needing their help as ice has gripped the North-east.
NHS Grampian revealed there had been a three-fold rise in people attending emergency departments after slips, trips or falls between last Thursday and Sunday.
The health board said 338 people attended emergency departments for trips and slips compared with 108 in the same period last year.
Overall, 849 people attended emergency departments over that four-day period this year compared with 656 last year.
One of those patients was Jean Johnston, 70, of Bridge of Don, who fell on the ice on  Aberdeen's Cameron Road last Friday morning. She spent seven hours in Aberdeen Royal Infirmary and had to undergo surgery on her wrist.
Mrs Johnson, who was on her way to watch a nativity show at Scotstown Primary School featuring her grandson Lee, 11, said: "The pavement was so dangerous that I was walking on the road.
"I fell on my face and tried to break my fall with my wrist. It hurt a lot. I was treated well at the hospital but the lack of grit on the road has been disgusting."
That road is the responsibility of Aberdeen City Council.
Mike Cheyne, Aberdeen City Council's roads infrastructure manager, said that the local authority uses a variety of forecasting services and tools to prepare but admitted that conditions had been challenging.
He said: "The Council was prepared for the snow and low temperatures and carried out road and pavement treatment in line with the winter maintenance plan's agreed priorities. The plan provides the basis for the delivery but it is the daily and five-day predicted forecast that sets out the actual work operation.
"The wet conditions prior to the snow meant that only prioritised roads were salted, this has led to conditions that have been challenging and has led to understandable frustrations for members of the public attempting to negotiate paths and roads."
The roads boss said priority routes had been treated on a rolling basis, both in terms of roads and pavements. However, the focus had been on priority areas with other routes "treated as and when possible".
He added: "The winter maintenance programme is reviewed on an ongoing basis. The approach taken this year is in line with previous years, with no reduction in resource or salt supplies. We are always looking for new solutions to the winter problems and have been working on trialling new plant and materials this year."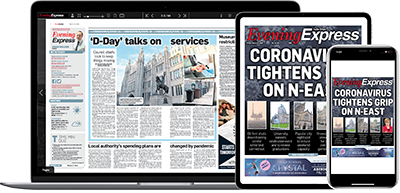 Help support quality local journalism … become a digital subscriber to the Evening Express
For as little as £5.99 a month you can access all of our content, including Premium articles.
Subscribe