An Aberdeen ice cream parlour has installed what's believed to be the UK's first peanut butter tap.
And since it was turned on at Mackie's 19.2, in Aberdeen city centre, they've already sold an incredible 5kg.
The warm smooth peanut butter is used to top waffles, crepes and ice cream and joins the ice cream parlour's already popular liquid chocolate tap.
Mackies 19.2 manager Yvette Harrison said: "We only had the tap up and running from last Wednesday and we already needed to order another 20kg of supplies by the weekend!
"Peanut butter is certainly having its moment – and we know that there are a lot of fans out there that profess that the nutty topping goes with everything, so we're really excited to see what amazing combinations prove most popular."
Yvette added: "The peanut butter tap runs continuously and never stops – not even when the parlour shuts – our customers and our team here are still mesmerised by it.
"When doing some research ahead of it arriving, the only other tap in existence that we could find was in Sydney, Australia.
"And when we first discovered it, the excitement was so much that it took us just a single week to then get it installed and up and running!"
And with plans to bring back their popular jelly ice cream recipe, fans will be able to tuck into a unique twist on that American classic – PB&J!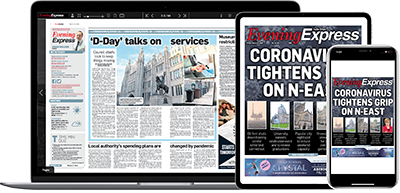 Help support quality local journalism … become a digital subscriber to the Evening Express
For as little as £5.99 a month you can access all of our content, including Premium articles.
Subscribe