A performing arts organisation has scooped a funding boost after an ice cream company donated £50,000.
Mackie's of Scotland has committed to serving a generous helping of cash to Aberdeen Performing Arts over the next three years as part of its multi-million-pound refurbishment.
The firm has agreed to gift £20,000 and will add a further £10,000 per year for the next three years to the charitable organisation and the renovation of the Aberdeen Music Hall.
The funding will go towards the venue's creative learning hub, helping to broaden access to the arts, promote youth arts and develop aspiring and established musicians in Aberdeen.
Jane Spiers, chief executive of Aberdeen Performing Arts, said: "The music hall transformation is ensuring that it will continue to be at the heart of the city's cultural scene for many years to come.
"Mackie's generous donation is a further extension of our strong relationship.
"We have a great working relationship that included supporting last year's Granite Noir and True North festivals, and this additional investment in the music hall is a further endorsement of our work in the community and with children and young people.
"Plans are already underway for the reopening of the music hall after an ambitious, multi-million-pound transformation including vastly improved street-to-seat access, a new creative learning studio, performance studio, cafe bar, reception, upgraded auditorium and backstage facilities and historic fabric repairs."
---
---
The 200-year-old venue is to reopen later this year after an intensive makeover, which will also include the addition of three lifts, allowing access from basement to balcony for people with restricted mobility.
Marketing director and one of the firm's three sibling owners, Karin Hayhow, said: "We're all looking forward to visiting the music hall when it reopens after such an ambitious renovation project.
"The new performance and educational opportunities this will bring is exciting for Aberdeen.
"Live music from across the world will add to the fantastic repertoire of performance art and events already provided by His Majesty's Theatre and the Lemon Tree.
"We're pleased to continue as the ice cream suppliers, providing a taste of the north-east to the Aberdeen audiences.
"We now welcome this chance to give something back to our local community."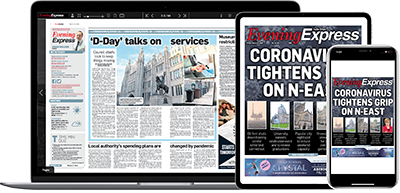 Help support quality local journalism … become a digital subscriber to the Evening Express
For as little as £5.99 a month you can access all of our content, including Premium articles.
Subscribe