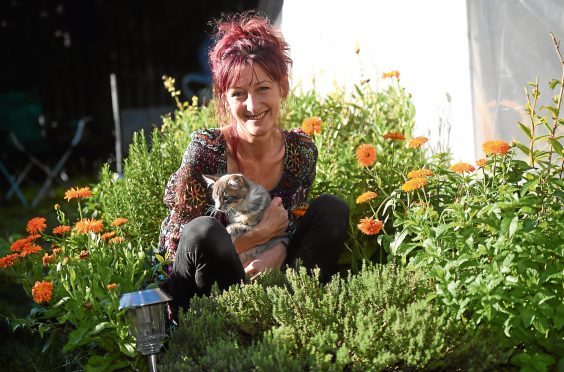 A cancer sufferer who was prosecuted for growing four cannabis plants for medical use today said she has been made to "feel like a criminal" for trying to save her own life.
Jacqui Ritchie spoke out after appearing at Aberdeen Sheriff Court and admitting producing the plants.
The offence took place at her home in Stonehaven's Redcloak Drive on March 8 this year.
The court was told that the mum-of-two was diagnosed with breast cancer in 2014, and that it turned out to be a rare and aggressive form – triple negative metaplastic breast cancer, with only around 600 others affected around the world.
Jacqui also said she suffered from HER2 cancer and BRCA1 gene mutation.
She ended up having a double mastectomy, and later used cannabis to help combat the side-effects of chemotherapy, mainly using the oil she obtained from the plants.
Speaking after the case, Jacqui, who shows no evidence of the disease currently but is due to have more scans in November, said: "I feel as if the police could have used their discretion and not wasted money in taking me to court.
"They have made me feel like a criminal for trying to save my own life.
"For a patient who has been diagnosed with cancer and is using it medicinally, it is very harsh.
"It's not a narcotic, it's a superfood."
Jacqui, who is mum to daughter Tegan, 16, and son Connor, 15, lost her grandmother and two aunts to cancer as they both had the same rare cancer gene.
And the 49-year-old said she feels she has been given a new lease of life due to the plant.
After three weeks of chemotherapy in addition to prescribed drugs, Jacqui was suffering badly and felt she had to try something else.
She was first introduced to cannabis oil after another patient gave her a little of what she had left.
She added: "I actually used that instead and I didn't need any medication.
"I didn't need any of those steroids and I got back to work and managed to sleep at night. The first time I took it at night-time I had the first night's sleep in ages.
"I didn't have IBS (irritable bowel syndrome) or a burning tummy or nausea and I managed to have a cup of tea and some breakfast."
Prior to taking the oil, Jacqui said she faced "all the side effects of chemotherapy", adding that high doses of steroids made her "hyper" and suffer from panic attacks.
The freelance hairdresser now fears for her job after she said treatment left her with nerve damage and post traumatic stress disorder (PTSD).
And Jacqui, who has studied plant medicine for nearly 30 years, is now hoping for a change in the law, and was even invited to Holyrood earlier this year to take part in a meeting along with politicians and other groups looking at the medicinal use of cannabis.
She added: "We do need legislation for patients.
"In Britain it is a bit archaic.
"There's lots of countries that give cannabis oil with chemotherapy, and the survival rates are a lot higher."
In court, defence agent solicitor advocate Ross Taggart said: "She was diagnosed with breast cancer on February 14, 2014, that cancer was in both breasts.
"She was 46 years old, she probably had the cancer since the age of 44, but it was not formally diagnosed.
"It is fairly aggressive and rare."
He went on to say his client had surgery – a double mastectomy in May of 2014, as well as the removal of lymph nodes.
He said: "Due to the surgery and the massive removal of tissue she had a very painful and long convalescence."
He added that she then had chemotherapy, saying: "She was really quite ill, of course there are a number of drugs prescribed to combat the effects."
Mr Taggart said in his client's case she suffered from extreme nausea, as well as other issues such as panic attacks, anxiety and difficulty sleeping.
He told the court that she tried a small amount of medicinal cannabis oil from a fellow cancer sufferer after asking a doctor about medicinal cannabis.
Mr Taggart said that having experience of growing other plants, Jacqui decided to grow the cannabis herself.
He said: "She appreciates it is against the law, but she felt she had no choice to try and alleviate the symptoms, to have a better quality of life.
"She accepts what she has done has broken the law, she hopes you can understand why she did it.
"Her best hope now is there might be a change in the law for the production for medicinal purposes."
The case was deferred for a background report until next month by Sheriff Morag McLaughlin.
Local Area Commander Chief Inspector Murray Main said: "Cannabis is a controlled drug and possession of it is an offence under the Misuse of Drugs Act 1971.
"As with all cases of a similar nature, a report detailing the full circumstances is submitted to the Crown Office and Procurator Fiscal Service for consideration of future court proceedings."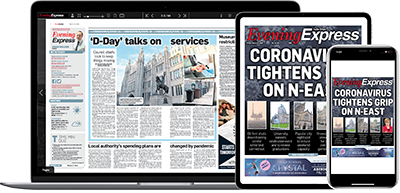 Help support quality local journalism … become a digital subscriber to the Evening Express
For as little as £5.99 a month you can access all of our content, including Premium articles.
Subscribe