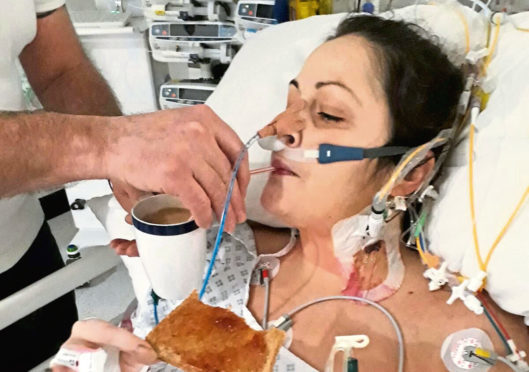 Alana Russell arrived in the world weighing just 2lb 8oz, little more than a bag of sugar.
She was born only a few weeks premature but had been unable to digest food while in the womb.
The reason became clear when at two months old she was diagnosed with cystic fibrosis, a genetic disorder that can affect the digestive system.
Mostly, however, it impairs the lungs, resulting in infections and the over-production of sticky mucus that hinders breathing.
Doctors warned that Alana, from Kincorth, might not live to be five years old.
At 33 and gravely ill in hospital, Alana was asked to consider signing a "do not resuscitate" form.
Ever the fighter, she refused – but she did draft farewell letters to family and friends, ready to send.
Now 34, Alana has never felt better – but only after receiving a double lung transplant, just one day from death.
"In the years before that I'd been losing lots of weight," she said.
"It had got to the stage where I had to decide between eating and sleeping. I was up the whole night, coughing, it was exhausting.
"I always knew I would one day need to have a lung transplant and just accepted it."
Alana attended Greenbrae Primary School and Oldmachar Academy and trained as a support worker.
But CF started to impact her life. Chest and lung infections became the norm as her oxygen intake reduced to a third of normal.
She had lived on her own since she was 17 after her mum moved to the US – and she was determined to stay independent.
A "port" was created in her arm to make it easier to inject a cocktail of antibiotics.
"I was in hospital a few times but it was just as easy for me to do myself at home," she explained. "There is always someone worse off so I accept that everyone has their struggles too."
Eventually her CF team put her forward for a lung transplant.
While she waited for donor organs to become available, her condition worsened.
Alana was eventually admitted to Aberdeen Royal Infirmary and had to wear a mask for 24 hours to remove the build-up of carbon dioxide in her body.
But her health continued to decline and she was moved to theiIntensive care unit and put on the emergency transplant list.
The days passed but there was no call from the transplant centre.
"The hospital told my family I was dying.
"My dad (Alan) rode all the way up from Colchester on a motorbike in the pouring rain, while my sister Anna was by my side."
Alana saw a vision of her beloved nana, Alexzena, who died when Alana was 20.
"She was at the foot of the bed. I knew she was there to protect me."
And then came word suitable donor lungs had been found. Alana was flown by air ambulance to hospital in Newcastle.
"When I was going to theatre a medic commented I was very calm. I told him I am out of options. The last thing I said was please make my scars neat."
On December 5 2017 the transplant team worked on Alana for eight hours. Remarkably, she was home 18 days later and is now recovering and looking forward to life.
"I am forever grateful to my donor. "Obviously it's bittersweet because someone needs to lose someone in order for someone else to live, and yet, what better gift could you ever give?"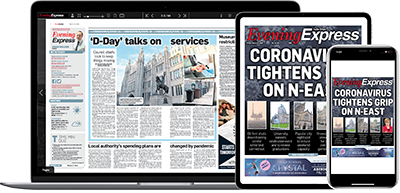 Help support quality local journalism … become a digital subscriber to the Evening Express
For as little as £5.99 a month you can access all of our content, including Premium articles.
Subscribe