A woman who has set up a petition to create a segregated cycle path on  Aberdeen's Union Street has said she is "overwhelmed" with the response from the public.
Rachel Martin, of Ferryhill, decided to create the petition due to concerns over the safety of cyclists in the city centre.
On Saturday, Rachel set up camp by the King Edward VII statue on Union Street in an attempt to encourage members of the public to sign her petition.
In just one hour she received more than 250 signatures.
She said: "It was fantastic. I'm just overwhelmed with the response. We received more than 250 signatures from people in the one hour we were outside on Union Street.
"The most heartwarming thing was the support from charities and groups around the city like Aberdeen Climate Action, Cycling UK and Friends of the Earth."
Rachel, 42, was joined in her mission by her two children – Daniel, 11, and Elizabeth, 8.
She said: "They were the stars of the show. Both of them made their own signs. My daughter had one that said 'I want to ride my bike'.
"They got really into it and enjoyed themselves, which was lovely to see."
Although the petition now has enough names to go before Aberdeen City Council, Rachel, an IT support worker for WordPress, is keen to continue generating signatures.
She said: "I really want to encourage people to get involved.
"It's something that I'm very passionate about.
"Aberdeen will look backwards in a few years if something isn't done to make it more cyclist-friendly."
Rachel added that her main incentive for the petition came down to the safety and health of her children.
She said: "It's really about my children.
"There's no way I want to let them ride their bikes on city centre roads as it stands.
"Child obesity is also a huge problem these days and we need to encourage children to get on their bikes and stay active."
The petition is available in paper copy only and is available to sign at Foodstory on the city's Thistle Street.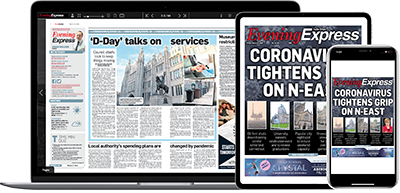 Help support quality local journalism … become a digital subscriber to the Evening Express
For as little as £5.99 a month you can access all of our content, including Premium articles.
Subscribe