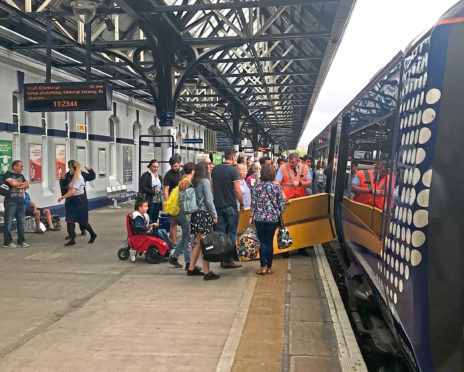 Hundreds of rail passengers were forced to leave a train mid-journey after a ticketless passenger hurled abuse at staff.
The nine-carriage train from Aberdeen to London was an hour into its journey yesterday to King's Cross when the drama unfolded and the yob was turfed off at Arbroath.
A source said the man's verbal abuse was "particularly aggressive" and he made the train manager feel too distressed to carry on working.
He terminated the service at Dundee just after 11am and ordered everyone off.
"It is a very unusual course of action and not something that happens often," the source added.
Those impacted by the delays have expressed sympathy for the train manager.
Evening Express columnist Scott Begbie was on the train en route from the Granite City to Edinburgh. He said: "We were approaching Dundee and the conductor came on the public address system to say the train would be terminating at Dundee, so we all had to get off.
"Everyone got out on to the platform and we got another train to Edinburgh which was very crammed and people were like sardines and very warm."
The incident delayed York and London-bound customers for more than an hour.
Mr Begbie added: "It sounds like what has happened is horrible."
LNER apologised to customers and said the cancellation was due to a "disturbance" which "led to a lack of train manager".
An LNER spokesman told the Evening Express: "The health and wellbeing of our employees is of paramount importance."
A British Transport Police (BTP) spokesman said: "Shortly after 11am officers were called to Arbroath station after reports of a man being threatening and verbally abusive to a member of rail staff.
"The man, who did not have a valid ticket, was removed from the train at Arbroath station. Inquiries are now ongoing to trace the man responsible.
"Anyone who was on board the train and saw what happened is asked to contact BTP by sending a text to 61016 or by calling 0800 40 50 40 quoting reference 188 of July 11 2018."