Hundreds of beer fans are expected to descend on a North-east venue for a popular outdoor festival.
Beer at the Barn Lochter is to feature an array of beers, ciders and gins from Scottish and national breweries this weekend.
The festival is run by brothers Mungo and Guy Finlayson, from MFGF events.
Mungo said the event, now in its third year, will be offering the biggest range of gins yet.
The pair also organise the popular Inverurie and Banchory beer festivals.
Around 15 beers, nine gins, two rums, prosecco and ciders will be on offer with organisers saying there is something to drink for everyone.
Foodie fans will also have something to look forward to with Middle Eastern chicken shawarma, pheasant and pork burgers, haddock goujons and other tasty treats lined up.
Mungo, festival operations director and co-founder said: "We are excited to be offering our biggest range of gins yet at our Lochter Activity Centre festival.
"It includes local gins Esker, Teasmith, Jindea and others from around Scotland and everyone's favourite from Warner Edwards Distillery, their Elderflower Gin.
"The festival will have a range of music throughout the two days including local talent – Callum Hey Music, Jack Marshall, The Capollos, Black Foot John, Cyrus Rose and Kent band Gentleman of Few.
"Beers are on offer from breweries Brew Toon, Cloudwater Brew Co, Cromarty Brewery, Dalrannoch, Magic Rock, Wild Beer Co and we will have some other great breweries, with many of these being a first-time appearance for the festival."
There will be three sessions for festival-goers to take part in.
Tomorrow there will be one session from 5.30pm. And Saturday will feature two events – the first starting at noon until 5.30pm and the second from 6.30pm until midnight. Tickets are available at www.inveruriebeerfestival.com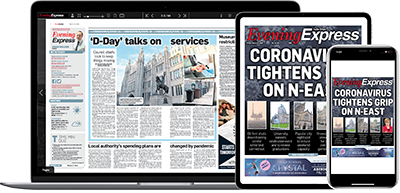 Help support quality local journalism … become a digital subscriber to the Evening Express
For as little as £5.99 a month you can access all of our content, including Premium articles.
Subscribe