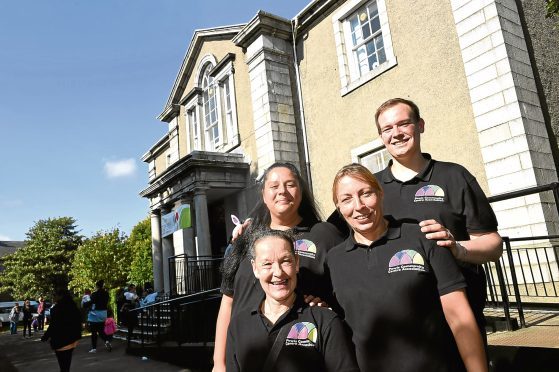 A popular Aberdeen community hub which once lay empty for more than a year has celebrated its 75th anniversary.
Powis Community Centre's milestone was marked with a fun day in its grounds.
The Powis Gala, thought to have been attended by hundreds of local residents, featured activities including face painting, balloon modelling, Zumba classes, a performance from street drummers and pony rides.
Committee member and resident Fiona Lindsay, 45, considered the event on Saturday to have been a great success.
She said: "It truly was a celebration of the community and having the centre back in the hands of the community.
"We wanted to bring people's attention to the centre, and there was nobody around who didn't know about the gala – thanks to the sound of the drums.
"We had a great footfall on the day, and it wasn't just locals that came out.
"We're so proud of the centre, it looks fabulous."
The success of the gala follows on from the centre's recent achievements at the Britain in Bloom awards.
The Powis Residents Group clinched the top spot in the Residential Community section for having enhanced and developed green spaces in the place where they live.
Speaking to the Evening Express earlier this month David Massie, the group's chairman, said of the win: "We are fantastically proud.
"It's a whole community effort, not just one or two individuals."
Powis Community Centre, which is on Powis Circle, lay empty for 19 months after it was closed for renovations in June 2015.
The hold-up was added to by repeated setbacks involving paperwork.
The delays left the community without a base, and forced some local groups into unsuitable meeting places.
The Boys' Brigade Group ended up holding their meetings in McDonald's restaurant at Kittybrewster, but could not take part in any of their usual physical activities due to the public location.
The refurbishment work was completed in October 2016, but the lease was not signed until January 2017 during a meeting of the Powis Community Centre Association.
Councillor Ross Grant, who represents the Tillydrone, Seaton and Old Aberdeen ward, said: "This is a historic milestone for the Powis Community Centre and the community as a whole as the work taking place goes from strength to strength.
"I have been incredibly inspired by the positive ethos of the management committee and supporters of the community centre, and it is that spirit that gives me confidence that the best days lie ahead for the community centre."
Aberdeen Central MSP Kevin Stewart said: "The community centre has been an institution over the years.
"I am very pleased that the community itself is carrying out a huge amount of beneficial work and I applaud them for all that they do.
"So much so, that the chairman recently took home an award for the centre's efforts with the environment."