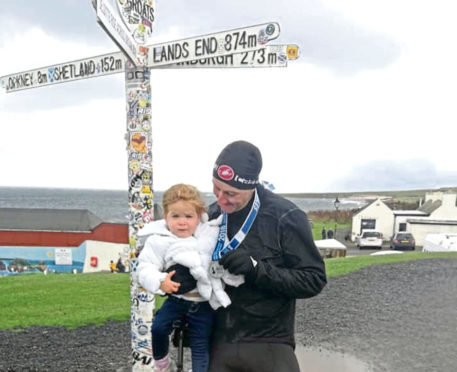 A north-east two-year-old girl who suffered a stroke before she was born is one of the first youngsters in the region to undergo an experimental treatment.
Demi Addison is thought to have been strangled by the umbilical cord in her mother's womb for four weeks before her birth.
Due to this, Demi was born with hemiplegia – a type of cerebral palsy which leaves the left side of her body significantly weaker than the right.
Following her birth, Demi's parents Erin, 26, and Kevin, 40, have become enthusiastic supporters of the charity HemiHelp – which supports young people with hemiplegia – with Kevin completing a cycle from Land's End to John O'Groats to raise funds for the charity.
Now brave Demi, from Buckie, is thought to be only the second toddler in Grampian to undergo constraint-induced movement therapy (CIMT).
The treatment involves her having a cast fitted to her stronger right side, with hopes this will encourage her to use and strengthen her left side.
The cast, which was fitted last week, is to be worn for two weeks at a time before taking a week off for a block of about three months.
Kevin said: "Due to Demi's determination, she was considered for CIMT by her physiotherapist, who had previous experience with CIMT.
"Along with her paediatrician and doctor, they all agreed that CIMT could have potential for Demi and it was approved.
"CIMT is only available in private clinics in England, but NHS Scotland has in some cases approved CIMT for home treatment, following a treatment plan.
"There is a specific focus spent on the weaker left side, incorporated in play."
Demi is also due to have a splint placed on her left ankle as her treatment – which is home-based – continues.
Kevin said: "It has been very stressful, as she is no longer able to do the things she was able to do previously, and can get frustrated and upset, and she uses up far more energy and gets tired much more quickly.
"A child with cerebral palsy uses up five times more energy than a non-cerebral palsy child, and having CIMT will use up even more energy.
"It's a case of tough love, as it can be challenging, but long term the success stories of private clinics are high."
Although Demi will never be cured of her hemiplegia, her parents hope that, with the treatment, she will not be held back by her condition.
Kevin said: "We are already seeing some more usage of her left side in just the short time we have started CIMT.
"The hemiplegia condition she has – as in the damage to the brain – will never get worse, or better.
"It's a lifetime condition, but by continuing to trust the experts, and giving her all the opportunities that are available, we hope she will have as normal a childhood and adulthood as her peers.
"A splint on her left foot and ankle will also help continue improving her walking as she is very active from the moment she wakes till the moment she falls asleep."
Kevin finished his charity cycle for HemiHelp from Land's End to John O'Groats on September 16 and has raised more than £16,000.
He said: "There were times when the weather was poor and conditions were against me, but I just had to remember why I was doing it, and keep going forward."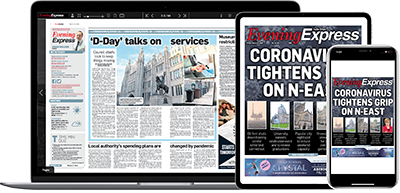 Help support quality local journalism … become a digital subscriber to the Evening Express
For as little as £5.99 a month you can access all of our content, including Premium articles.
Subscribe