Aberdeen businesses have welcomed the start of a popular art festival – and the positive impact it has on trade in the city.
Walls around Aberdeen city centre have been transformed for the Nuart Festival.
Organisers have promised something for all the family at the event which starts today and runs until Sunday.
The festival, which is delivered by business organisation Aberdeen Inspired in partnership with Nuart Festival and Aberdeen City Council, is now in its second year and is expected to attract thousands of visitors to the city.
Once again, it will see a team of international, national and local artists develop their latest works on walls around the city centre at locations including Union Row, Holburn Junction, Jopps Lane, Willowbank Road and East Green.
Nuart Aberdeen's public opening will be held at The Green at noon on Saturday and will feature live music and performances along with the chance to buy exclusive Nuart Aberdeen merchandise.
Nuart artist Carrie Reichardt spent time mentoring youngsters about ceramics. She is creating a community mural at Rennie's Wynd in the city centre that was unveiled yesterday.
Carrie said: "I had a fabulous time working with both of the young people who helped to produce this community ceramic mural."
Business leaders hailed the festival and the impact it has had on footfall and trade in the city centre.
The theme for this year's festival is A Revolution of the Ordinary which will investigate the parallel world of non-institutional art and culture through an extensive programme of artist talks and debates, film screenings, guided tours, workshops and satellite events over four days.
On Sunday, "Chalk, Don't Chalk", a participatory public art project, will take place on St Nicolas Centre Rooftop Garden from 11am to 3pm. Both children and adults can create their own chalk street art pieces, with participating Nuart artist Bortusk Leer and friends on hand to teach and guide children with their designs.
Craig Stevenson, Bon Accord and St Nicholas Centre manager, said: "We are delighted to be part of Nuart 2018, and to have the opportunity to work with Bortusk Leer.
"The roof garden already provides a well-used place to pause in the city and Bortusk's work will add to this further."
Elsewhere Glöbel Brothers, otherwise known as Ciaran Glöbel and Conzo Throb, will be working on the Country Ways wall on the corner of Holburn Street and Willowbank Road.
John Michie, owner of Country Ways, said: "Like many of our regular customers, particularly the younger ones, we are excited about what the artists are going to produce.
"Ever since we cleaned the wall in anticipation of this year's Nuart Aberdeen festival and its welcome advance into the West End, there has been excited speculation as to what will happen.
"What will be the theme, what will be its message, how colourful will it be, will it show animals or buildings or people? This week we are going to find out and we can't wait, nor can the others who live and work in this busy part of Aberdeen."
Adrian Watson, chief executive of Aberdeen Inspired, added: "We are delighted with the flurry of activity in the city centre over the weekend as the much-anticipated Nuart production for 2018 kicked off.
"We can already start to feel the buzz in the city centre, with positive business engagement."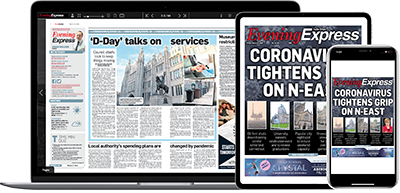 Help support quality local journalism … become a digital subscriber to the Evening Express
For as little as £5.99 a month you can access all of our content, including Premium articles.
Subscribe