An Aberdeen woman had a takeaway ordered for her by her favourite film star – after her husband contacted a prime-time television show.
Ann McRobb, 45, appeared on BBC One's The One Show on Friday for the programme's weekly feature where they send one viewer a well-earned takeaway – but the phone order is made by a celebrity.
Ann's husband Gary, 52, decided to treat her after discovering the order would be made by one of her favourite actors, 300 star Gerard Butler.
Ann, a competency consultant for her own company, said: "As part of my job I sometimes work offshore and when my husband saw The One Show he decided to apply to treat me to a takeaway since he hadn't seen me for a week.
"Gerard Butler was the celebrity who was on that week and I absolutely love him.
"I think that he's really hot. Gary sent in an email and eventually he got picked for the show.
"It's crazy to think out of all those people they selected him. It was a very nice surprise for me when I found out all about the plan."
---
---
On the show, the Olympus Has Fallen actor was tasked with ordering an Indian takeaway from Eastern Eye on Foresterhill Road, using as many submarine slang words as he could.
These included sea daddy, midnight cowboy, racking out and clean sweep.
Ann, who lives in Dyce with Gary and her 17-year-old son Patrick, said: "Gary chose an Indian takeaway for me.
"He picked Eastern Eye as it's our go-to whenever we're wanting an Indian.
"We've been using them for years. It's always been really good service.
"I'm pleased that the restaurant got such great coverage – it's amazing for them.
"After getting so many tasty meals from them over the years, it's nice to be able to give something back to them."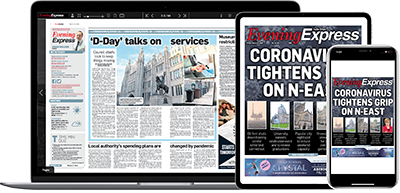 Help support quality local journalism … become a digital subscriber to the Evening Express
For as little as £5.99 a month you can access all of our content, including Premium articles.
Subscribe