Councillors are being asked to look into the issue of HGVs using an Aberdeen  road amid claims they are helping to create potholes.
The number of defects reported on Park Road, in Aberdeen, was raised at the latest meeting of the Castlehill and Pittodrie Community Council.
Julie-Anne Butchart, the community council's vice-chairwoman, claimed the number and weight of vehicles using the street has contributed to the poor state of its surface.
She said: "Some of the potholes are getting massive on Park Road, just because we have lorries and buses going up and down all day every day.
"It's getting ridiculous, there's not even a break between the lorries now, it's constant," she said.
Councillors Dell Henrickson and Michael Hutchison, who represent the George Street and Harbour ward, have asked Aberdeen City Council to repair a number of potholes around the city, after the issue was raised.
Mr Henrickson said: "My fellow councillor Alexander McLellan is trying to get a traffic study done.
"Not just at Park Road, because it affects School Road, Park Road, Golf Road and all the way up through Seaton as well."
Councillor Sandra Macdonald, who is a member of the city's ruling administration, also represents the area.
She said: "I would ban lorries on that road."
Agreeing with her Ms Butchart added: "If I could I would.
"It's all right if you have the little lorries, the four or six wheelers, but it's the 18 ones. They're huge.
"I would put a weight limit on it and say we've got a bridge there."
Last year, a petition was raised by the residents of nearby Northsea Court in Seaton, to ban lorries from using the road, which they deemed to be too busy and too narrow to accommodate the vehicles.
The vehicles use the area's streets as an alternative to taking congested King Street.
An Aberdeen City Council spokeswoman said: "We are assessing the road and will consider options for it thereafter."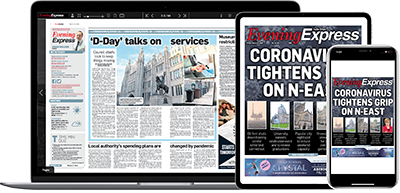 Help support quality local journalism … become a digital subscriber to the Evening Express
For as little as £5.99 a month you can access all of our content, including Premium articles.
Subscribe