With a weather warning for snow and ice in place, gritters across the North-east have been out in force – here's how you can check which roads have been covered and when.
Met Office issues weather warning for snow and ice in Aberdeen and Aberdeenshire
Trunk Roads – A90, A92 and A96
A live map shows the major roads in the North-east covered by Traffic Scotland's gritters.
Vehicles, including Sprinkles and Sir Grits-A-Lot, are out and about on the region's trunk roads – including the A90, A92 and A96.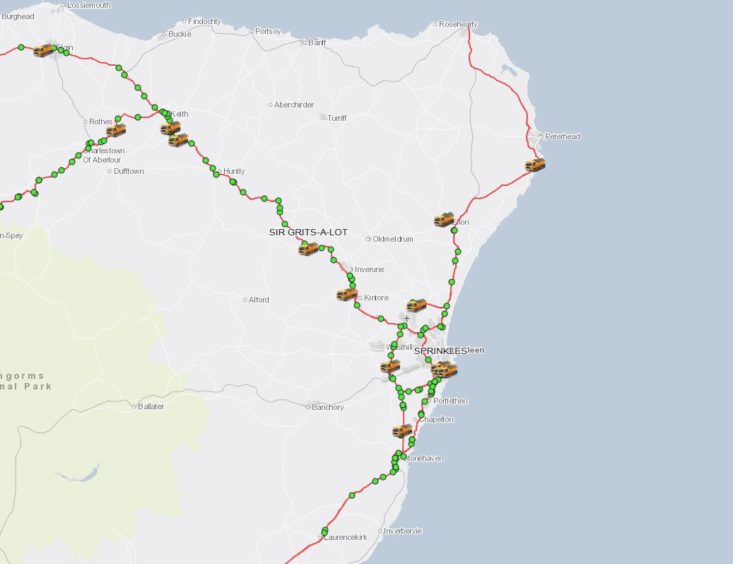 The green dots on the map shows stretches of roads treated by gritters in the past two hours.
Tonight we will have 24 gritters in the North East with double treatments across most routes. Look out for #SirAndyFlurry, #Sprinkles & #ForYourIceOnly who will be out working hard! ❄️@metoffice have issued 2 YELLOW warnings for snow & ice – read more: https://t.co/AcjQVVBto2 pic.twitter.com/MTYmtvJgvw

— BEAR NE Trunk Roads (@NETrunkRoads) January 21, 2019
This includes the Aberdeen bypass – known as the A90, between Aberdeen and Dyce, which, according to the map has been regularly treated already this evening.
The A96, between Dyce and Inverurie, has also been treated as have sections of the A92, Aberdeen to Stonehaven road.
Aberdeen
In Aberdeen the city council focuses on 11 routes, these include the busiest roads and bus routes.
The website updates to let you know when the last time the gritters in the city were last out on each route.
Met Office yellow warning for ice today & tom morning https://t.co/U1KeWYN2fo. Our gritters will be out late tonight on the 10 primary routes & again from 4.45am. Sleet and rain forecast from now on & overnight with under 0C temps, so roads and pavements are likely to be icy. pic.twitter.com/swL7yxeSCc

— Abdn City Council (@AberdeenCC) January 21, 2019
Aberdeenshire
Aberdeenshire Council, which has around 3,370 miles of road under its control, has 32 different gritting routes across the region.
Their priority treatment plan covers around 30% of the Shire's roads.
A map embedded on their site shows the roads they plan to treat.
This is the forecast for roads in and around Inverurie tomorrow – not too dissimilar from last Wednesday with overnight rain falling on cold surfaces into the morning. Untreated roads and pavements will be icy. A @metoffice yellow warning is again in place. ❄️ pic.twitter.com/nB8zzqu8oc

— Aberdeenshire Roads (@AbshireRoads) January 21, 2019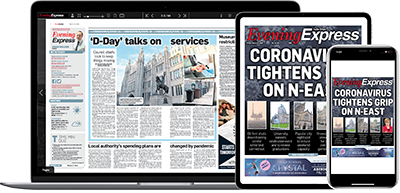 Help support quality local journalism … become a digital subscriber to the Evening Express
For as little as £5.99 a month you can access all of our content, including Premium articles.
Subscribe