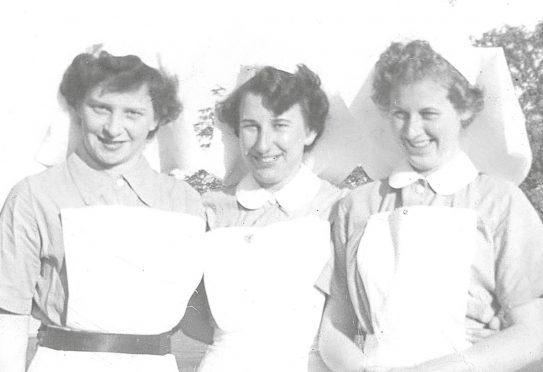 A group of nurses are appealing for new members to join an organisation that is at risk of folding.
The Royal Infirmary and Associated Hospitals Nurses' League was established in 1939 with the aim of bringing nurses from around the city together to discuss advancements in the field and to socialise.
However, a committee member now fears the group may have to close due to falling membership and the ages of those who remain.
Retired nurse Betty Anderson, 88, became a committee member to stay in touch with old friends and colleagues.
Betty, who had a career within the NHS that spanned 45 years, said: "I joined as a student nurse at 18, then became a staff nurse. I then trained in orthopaedics at Stracathro Hospital, before returning to Aberdeen Royal Infirmary to become a ward sister.
"After taking a break to have a family, I came back to the University of Aberdeen to become a student health nurse, a health visitor and finally back in ARI, where I helped people enter and leave the hospital.
"I've nursed all my life in Aberdeen and loved it."
Betty believes her organisation is still of importance to retired and working nurses.
The League started with 139 members, but numbers dwindled from 699 in 1980 to 544 members by 2008.
Betty said: "In 1939, a lot of people that were ward sisters had to go into the forces and so, when they came back they set up the League – it was just to say we're here.
"The purpose was to keep everyone in contact that trained in ARI, and to keep people in the loop about what was going on in the hospital.
"The League met once a year, on Fridays in Foresterhill and easily more than 100 nurses came.
"We would have had tea and biscuits, and a speaker always came to give a lecture about a nursing topic.
"Even at this age, I'm still proud to be a nurse and to have trained at Aberdeen Royal Infirmary."
At each meeting, nurses would receive an annual journal with the agenda of the meeting, notices, changes of address, articles and quizzes.
But now, as membership has fallen, the agenda is a single sheet of paper.
The organisation's constitution lists its aims as: "To form a fellowship between the past and present nurses who have trained in the Infirmary and Associated Hospitals, to encourage a high standard of professional work, to further the interests of trained nurses and to promote mutual help."
Remaining members hope nursing students at Robert Gordon University will join and help to boost numbers.
Betty said: "I'm so proud to have trained at Foresterhill.
"It's a shame – they don't know what they're missing."
Professor Ian Murray, head of RGU's School of Nursing and Midwifery, said: "Taking a leading role in developing the healthcare workforce of the future is a key priority for the school and we maintain close partnerships with our colleagues in NHS Grampian and healthcare professionals throughout the region.
"We have welcomed the Nurses' League to speak to students many times over the years and are open to more opportunities to work together for the benefit of our students and service users across the area."