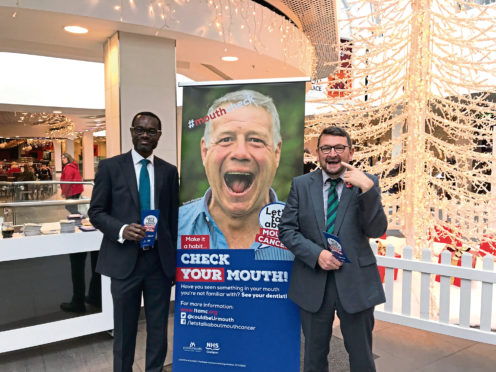 Health chiefs have launched a new mouth cancer campaign in a bid to tackle the rising number of cases across the north-east.
As part of Mouth Cancer Action Month, NHS Grampian, in partnership with the national charity Let's Talk About Mouth Cancer (LTAMC), will spearhead the bid to highlight oral cancer as well as encouraging people to check their mouth regularly.
The campaign, which launched at the Bon Accord Centre yesterday, saw NHS Grampian dental students speaking to the public and showing them how to check their own mouths.
Jonathan Iloya, consultant in dental public health for NHS Grampian, said the event is trying to awareness of the signs and symptoms of mouth cancer.
He added: "We know the number of new cases in mouth cancer have been going up over the years, and if you look at Grampian in the last decade to 2015, the number of cases has gone up by 80%.
"If you look at the mortality rate of those dying from mouth cancer, that is going up as well.
"It's got to the late stage of the disease before people turn up and at that stage the survival rates are highly diminished.
"We're thinking if we can raise awareness of the disease, get people to know what to look at in their mouths, and if they see things they are concerned about, then they can go and see their doctor and dentist and say they are concerned about it."
---
---
In 2005, there were 56 cases of mouth cancer across NHS Grampian, rising to 101 in 2015. There were also 28 deaths from mouth cancer in 2017, up from 21 in 2016.
Professor Victor Lopes, trustee and policy adviser for the Let's Talk About Mouth Cancer charity, said early diagnosis is key for the disease, with people in their 30s and 40s routinely attending clinics for the disease.
He added: "We don't want to see lots of late presenting of the disease which is unfortunately what we do see.
"We think the only way to do that is early diagnosis and by people themselves having had awareness of what might be a sign or a symptom and doing something about it."
Symptoms of the disease include mouth ulcers that do not heal after two weeks, constant soreness in the mouth, bleeding in the mouth and a lump in the neck.
Risk factors include high alcohol intake, smoking, poor diet, HPV (Human Papilloma Virus) infection, chewing smokeless tobacco and poor oral hygiene.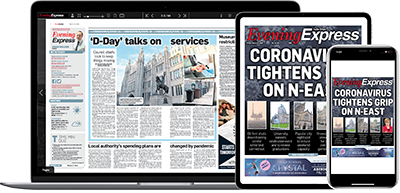 Help support quality local journalism … become a digital subscriber to the Evening Express
For as little as £5.99 a month you can access all of our content, including Premium articles.
Subscribe