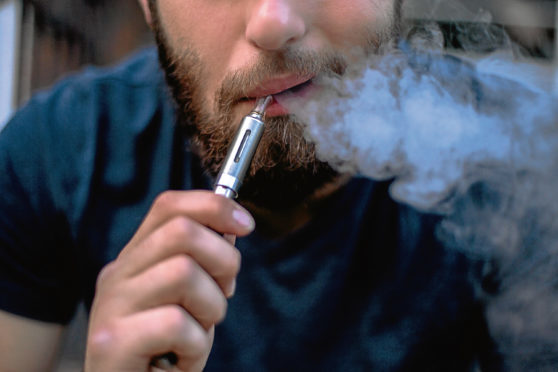 North-east health chiefs are considering lifting a ban on e-cigarettes and vaping on hospital grounds.
Ahead of a policy review, NHS Grampian is asking the public if the use of the devices should be permitted across its facilities.
The current NHS Grampian Tobacco Policy does not allow the use of tobacco or e-cigarette products within its grounds.
Chris Littlejohn, deputy director of public health, said recent studies have suggested that vaping can be a useful aid to giving up smoking.
He said: "The harm caused by tobacco is well known, however, NHS Health Scotland recently released a consensus agreement to clarify perceptions on the harms and benefits of using an e-cigarette.
"The consensus states: 'There is now agreement based on the current evidence that vaping e-cigarettes is definitely less harmful than smoking tobacco'.
"Furthermore it recognises that e-cigarettes are useful for public health and health service purposes only as a potential route towards stopping smoking however, access to e-cigarettes needs to be controlled carefully – these are not products for children or non-smokers."
This development has been welcomed by independent charity Action on Smoking and Health (ASH), which aims to reduce the harm caused by tobacco.
Sheila Duffy, chief executive of ASH Scotland, said: "We're glad NHS Grampian is engaging with the community on this issue – the people most affected by it should have a say. Tobacco is lethal and is the reason why many smokers are in hospital.
"Vaping carries less risk than smoking tobacco and some other NHS boards, including Lothian and Greater Glasgow, have allowed vaping on their grounds."
For Joe Newman, sales assistant at Scotvapes on George Street, it is an easy decision.
He said: "I think vaping on hospital grounds would be acceptable, as long as you're not blowing the vape smoke into people's faces – they could have designated vaping areas. How I explain vaping to customers is, it's much like a kettle – the smoke is just water vapour and there is no such thing as second-hand vape smoke. Research into the effects of vaping is in its early stages but I haven't experienced any negative effects."
The survey can be accessed online: http://bit.ly/2EJYnUh