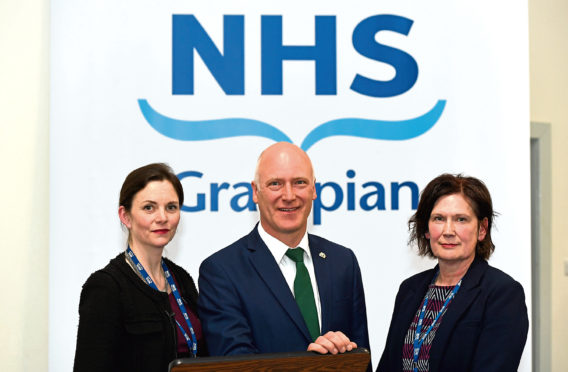 NHS Grampian's new chief executive has said funding to help tackle waiting times could be used to increase the number of theatre nurses.
Patient waiting times, mental health provision and cancer treatment times were under examination as NHS Grampian held its annual review.
It follows an announcement that NHS Grampian was in line to benefit from a slice of a £70 million funding pot which will go to health boards across Scotland in 2019-20.
The breakdown of the allocation by board and area of specialism will be finalised by the end of next month.
The waiting times improvement plan, launched in October, aims to "substantially and sustainably" improve waiting times for patient appointments, as well as day cases, by spring 2021.
Amanda Croft, chief executive of the health board, was appointed two weeks ago after being in the role on an interim basis for a year.
Ms Croft said: "We know we have an issue with theatre nursing and this has been the case for a few years, so how can we use the funding to improve our theatre activity? Either with theatre nurses or a practitioner.
"Another area we are looking at is how we work more closely with our colleagues in Tayside and Highlands and what we can do together to make better use of the money.
"It's not about Grampian patients travelling to the Highlands or vice versa, it is more about how we use our workforce differently.
"We are very aware of where our gaps are and what the funding could possibly do. In our negotiations with the Scottish Government, once we know what that allocation is, we will then know what we can put that into."
---
---
But Ms Croft added that work was also ongoing to improve cancer treatment times.
Figures released last month revealed 80% of patients in the board area received treatment within the target of 62 days.
Guidelines state 95% should be treated in this time.
Ms Croft said: "We have challenges with surgery due to where our workforce gaps are.
"What we have been doing over the past few months is working very hard with patients who have been waiting for their cancer pathways for too long.
"We have appointed a new medical lead, which is a new post for us. They will work with the clinical team to see what the challenges might be and what can be done to help them.
"We know we have major challenges in neurology and this will try and help that."
Dr Lynda Lynch, chairwoman of NHS Grampian, said significant progress had been made over the past year.
At the public meeting held yesterday at Curl Aberdeen Dr Lynch said NHS Grampian had hit its financial targets.
In addition, she said there had been investments in provisions including the new maternity ward in Inverurie and work starting on the Baird Family Hospital.