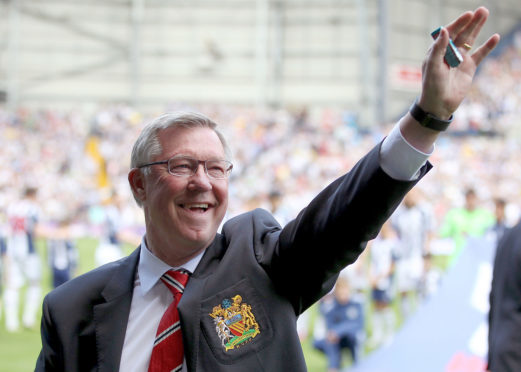 Support from across the north-east has poured in for football legend Sir Alex Ferguson as he remains in intensive care following a brain haemorrhage at the weekend.
The hugely popular former Aberdeen and Manchester United manager was rushed to hospital for emergency surgery on Saturday.
There has been no further update on his condition since then, although a Manchester United spokesman said the surgery had gone "very well" and Sir Alex would need a period of intensive
care to aid his recovery.
Willie Miller, who captained Sir Alex's Gothenburg Greats, said: "The news has taken everyone by surprise as Sir Alex has always been active, healthy and enjoying his retirement.
"I wish him a speedy recovery. He has always had a fighting spirit throughout his life and always up for a challenge.
"This sounds like a major health challenge. If anyone is going to battle through that it is going to be Sir Alex."
Archie Knox, former assistant manager to Sir Alex, said: "I'm absolutely devastated by the news.
"Hopefully, knowing Alex, he'll pull through okay."
Denis Law, a fellow Manchester United legend and close friend, said: "What a shock that was.
"I couldn't get him out of my head on Saturday night.
"I was only with him last week. He was really well.
"What a good guy he is and let's hope everything turns out okay for him.
"What he did with Aberdeen was just fantastic.
"He is such a well-liked guy. I'm very sad. He is one of my great friends."
Stewart Milne, Aberdeen FC chairman, said: "Like everyone else I am shocked to learn of Sir Alex's sudden illness. Along with everyone at the club I wish Sir Alex a speedy and full recovery.
"Our thoughts and prayers are with him, Cathy (his wife) and the family at this difficult time.
"The outpouring of support for Sir Alex and the family demonstrates the fondness and esteem he is held in throughout the world."
Aberdeen Lord Provost Barney Crockett said: "I think everybody in Aberdeen and the north-east will have a thought for Sir Alex and his family and be wishing him a speedy recovery. He's got the freedom of the city and has a very special place in the hearts of people here.
"Wherever I go people always seem to associate Aberdeen with him.
"His whole career he's shown great resilience and I'm sure he'll draw on that in his time of need."
A keen supporter of the Boys' Brigade, Sir Alex has also been the honourary vice-president of Aberdeen and District Battalion for more than 30 years.
Battalion secretary Jenny Sclater said the group was shocked to hear the news. She said: "He means a great deal to the city.
"I think everyone, like the rest of the country, is shocked to hear it.
"Our thoughts and prayers are with him and wishing him and his family well.
"The battalion is very proud of the fact he is an honorary vice-president.
"He was up two years ago presenting awards to the young men. He made a point of talking to all the young men present before the awards presentation.
"He made a very inspirational speech and spoke warmly about his own time in the Boys' Brigade in Glasgow and stated the BB had given him a solid grounding which has stayed with him."
Stewart Spence, owner of the city's Marcliffe Hotel, first met Sir Alex when he took over at Aberdeen in 1978.
He said he was "astounded" when he heard the news.
He added: "I came upstairs after work and saw it on the news.
"I was just astounded as he's always been such a healthy man. He had a little heart scare a few years ago but since then he's been on top form and stayed several times in the past few years and was looking great."
Mr Spence said he met Sir Alex through Dick Donald, his late father-in-law, when working at the Atholl Hotel.
He said: "When he first started he came and stayed and we have remained great friends for over 40 years. He means so much to Aberdeen. He was only here eight years but it was the most memorable eight years."
Aberdeenshire Lord Provost Councillor Bill Howatson said: "At this point in time we have to hope for a comfortable and speedy recovery.
"I think everybody's good wishes should go to him and his family. He is an iconic figure and has revolutionised the game."
Sir Alex's Aberdeen remain the last team to have beaten Real Madrid in a European final, and the last Scottish team to win a European trophy.
He had appeared fit and well when he presented his old sparring partner Arsene Wenger with a memento at Old Trafford last Sunday ahead of the Frenchman's departure from Arsenal.
But rumours began to circulate about the 76-year-old's health after Doncaster manager Darren Ferguson, Sir Alex's son, did not attend his side's final match of the League One season against Wigan because of what was reported as a "severe family issue".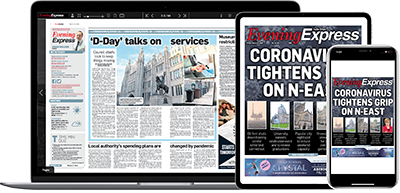 Help support quality local journalism … become a digital subscriber to the Evening Express
For as little as £5.99 a month you can access all of our content, including Premium articles.
Subscribe