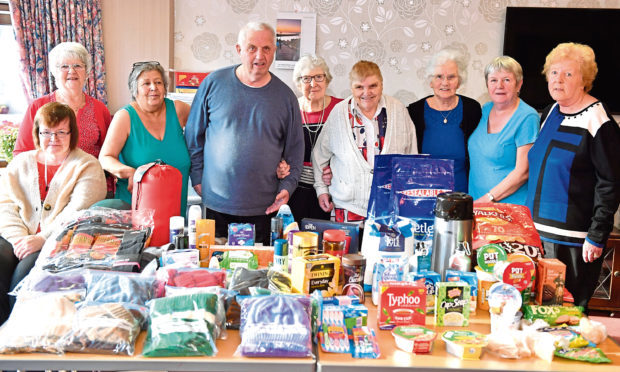 A charity volunteer helping people in the north-east has spoken of being "gobsmacked" when she went to pick up a donation.
Michelle Houghton, one of the volunteers for the group Street Friends – Helping the Homeless, made the trip to Peterhead to pick up what she thought would be a couple of sets of hats and scarves.
The group pitches up nightly outside Marks & Spencer in the city centre, offering food, drinks and supplies for homeless people in need.
Volunteers had been contacted by a resident from Crichie Court sheltered-housing complex, at Stuartfield, who had seen its posts on social media and wanted to help.
Michelle said: "One of the residents phoned up.
"She said that they wanted to start knitting hats and scarves, and asked if we would take them.
"To be honest, we never expected that much, but when we went to actually pick it up, we were totally gobsmacked."
When Michelle arrived, she was shocked to find a treasure trove of donations.
In total, the residents had knitted 54 sets of hats and scarves, as well as collecting 1,500 tea bags, 12 jars of coffee, 126 Pot Noodles, 60 packets of biscuits and many other things.
Michelle said: "There were also 14 sleeping bags that they had bought, absolutely brand new.
"It's unbelievable how much that helps.
"When people come up to you and they're cold, wet and shivering, and they ask you for a blanket, you can't put into words how much it helps them when you can give it to them.
As well as the donations, Michelle also made a few friends on the visit.
She said: "They're just the nicest group of people you'll ever meet.
"We've already planned to go back up for a wee Christmas tea as well, just for a chat with them."
The group relies solely on donations from the public, which Michelle says are always needed.
She said: "We're all volunteers and the group runs purely on donations.
"We get food that's left over at the end of the day from places like Greggs and Pret a Manger, but that just depends on how much they have left.
"We rely on donations, because otherwise we have to buy them, so it's fantastic to get some.
"We see an average of 70 people per night, so you can imagine how many tea bags and other things we have to give out on a daily basis."
Any donations of food, toiletries, clothing or other supplies can be dropped at the Fun House costume shop, which Michelle owns, on George Street.