Harlem Globetrotters came to Aberdeen to show children basketball tricks ahead of their show next month.
Flight Time Lang and Slick Willie Shaw were at Aberdeen Sports Village to give a special performance to the youngsters.
Flight Time said: "To be a Harlem Globetrotter it takes a bit of everything.
"Not only do you have to be a good basketball player – you have to be a good person.
"Height doesn't matter, it doesn't matter what gender you are – our smallest Globetrotter in history will be here, who's 5ft 2ins, he's a great basketballer and a great person.
"It takes a great basketball player, but again, even more so to be a better person."
"And a great smile," Slick added.
The team will be performing at the AECC GE Oil & Gas Arena on April 5. Spectators can expect a combination of athleticism, theatre and comedy during their routines.
Slick said :"When you get a chance to see the world-famous Harlem Globetrotters you're going to see some of the greatest athletes in the world.
"You're going to see some high-flying slam dunks, some great dribble, some basketball wizardry but most importantly we bring to the table family wholesome fun.
"This is an event where you can bring your whole family to create those positive memories, have a good time and laugh."
After my mini training session the pair headed to Aberdeen Sports Village to meet with groups around the North-east.
Representatives from basketball club Granite City Flames, the University of Aberdeen, Robert Gordon University and pupils involved with the Saltire Schools Sports Programme were all in attendance.
Slick added: "We love Aberdeen, we're excited and the rest of the team is excited to come back here and put on a great show for you guys.
"The energy is great, the crowd is great, the people are great – we can't wait to thrill them."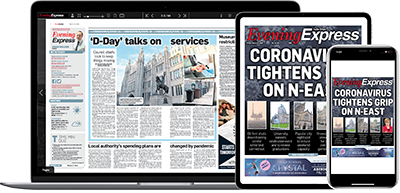 Help support quality local journalism … become a digital subscriber to the Evening Express
For as little as £5.99 a month you can access all of our content, including Premium articles.
Subscribe