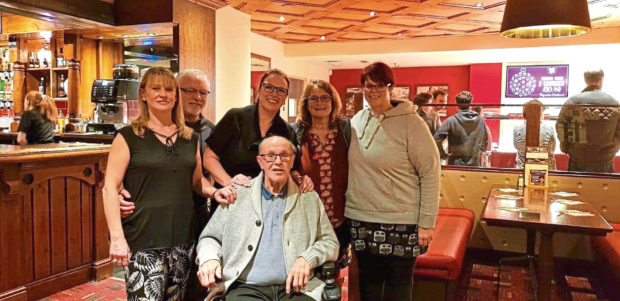 Two half-brothers have met for the first time after 66 years – thanks to some Facebook detective work.
Joseph Randell, 75, and Rodger Randell, 66, were born on opposite sides of the Atlantic – with Joseph growing up in Aberdeen and Rodger in St John's, Newfoundland, in Canada.
The pair met for the very first time thanks to the work of Joseph's daughter Joanne and Rodger's son Nick – and a little bit of luck.
Joanne, 47, who also lives in the Granite City, said: "We had always grown up knowing that my grandfather, who was also called Joseph, had come over to Aberdeenshire from Canada during the Second World War with the Newfoundland Overseas Forestry Unit, but other than that we don't know much about him.
"He met my grandma and my dad was born.
"He was going back to Canada and wanted my grandma to go with him, but she wouldn't go.
"Other than that, we didn't know much else."
In 1991, Joanne, who has three siblings – Scott, Pauline and Christine – decided to attempt to trace her long lost family in Canada.
She said: "I wrote to all the people with the surname Randell in the city. I then went to Canada as I knew my grandfather had lived in St John's in Newfoundland.
"I hadn't had any letters back but I looked in archives to try and piece something together but I had no luck."
However, after some Facebook detective work the brothers and wider family have finally been united.
Canadian Rodger explained that he had been unaware of his Scottish family when he received the letter from Joanne in 1991 and it was not until 2003 that he learned of the existence of his half-brother.
He said: "At the time (of the letter) we knew the facts fitted the name and time frame.
"However, it was only after I mustered the courage to ask my mother – sadly dad had passed away in 1976 – she confirmed that there had been a son and that he was two when my father returned home.
"Sadly, by that time Joanne had moved and I had no way of contacting her."
However, Rodger's son Nick eventually managed to find Joanne on Facebook and his mum Joyce sent her a message.
Rodger said: "My wife and I went on a long-planned trip to visit Scotland.
"Our son and his wife, who live in France, met us and we checked into the Jury's Inn in Aberdeen."
While there, Nick tracked down Joanne on the social media site and pictures displayed made the connection to Joseph.
Rodger added: "My wife, Joyce somehow, despite shaking, managed to send Joanne a message.
"Wednesday went by, Thursday went by, Friday went by and on Saturday morning we checked out of the hotel.
"The only consolation was Joanne had not seen our post so we took solace in that she hadn't simply deleted it.
"After spending the day sightseeing in Aberdeen we had just ordered dinner at Old Blackfriars when I handed the phone to my wife and said 'you have a response from Joanne Randell'."
Within an hour the family met for the first time in the city centre.
Rodger said: "After 27 years of wondering and searching, to see my brother was an unbelievable experience.
"Overcome with emotion, we embraced and from that moment I knew that a piece of my past was now complete.
"I have a big brother and his name is Joe."
Joanne added: "I got my dad into his wheelchair and we headed to the pub.
"When I pushed him through the door, we saw this man and he ran towards us – we were all crying.
"My dad got to buy his baby brother a pint for the very first time.
"Both my dad and his half-brother grew up as only children and now they finally have siblings.
"I think my dad is still speechless about the whole thing."
Rodger said he now felt like he had known his family member "forever".
"Joyce and I spent an absolutely fabulous week sharing stories.
"It truly is a happy ending and a new beginning rolled into one."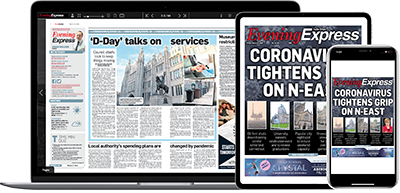 Help support quality local journalism … become a digital subscriber to the Evening Express
For as little as £5.99 a month you can access all of our content, including Premium articles.
Subscribe