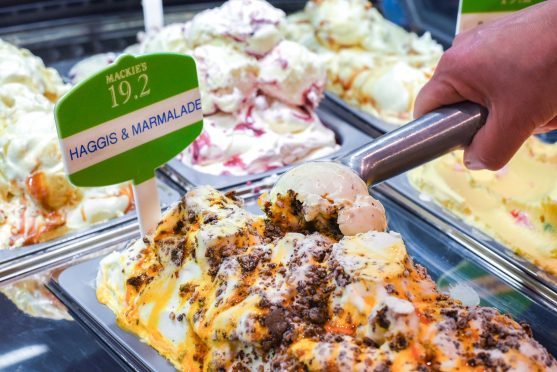 A North-east food firm is set to pipe a container of haggis ice cream through Aberdeen's city centre.
Mackie's of Scotland has arranged for its one-off flavour – which contains one whole haggis per tub – to be piped into its recently-opened ice cream parlour in Marischal Square.
The piper will start his route outside the entrance of  Marischal College at 11am.
Robert Reid, of the Deeside Caledonia Pipe Band, will pipe the haggis ice cream the short journey to the 19.2 parlour.
Then, to commemorate the Ploughman Poet in true style, an address to the haggis will be read in the parlour by John Reid, Mackie's of Scotland's Gardner, who has served the company for 25 years.
Customers and onlookers will be encouraged to try free samples of the sweet treat which is certain to divide opinion.
Karin Mackie, Marketing Director at Mackie's, said: "As a Scottish brand, we thought that celebrating Burn's was a great opportunity to get creative with a new flavour.
"We've made two napolis of the haggis ice cream in our new product development kitchen and the team have paired it with swirls of marmalade. Unless it proves hugely popular, it is likely the flavour will be available for one day only!
"The team here all think it's strangely delicious – it's certainly a break from the norm – and we encourage everyone to come down and try it for themselves."
The Napoli recipe – which has been handcrafted on the Mackie's Aberdeenshire farm – has been made with Scotland's famous haggis, with orange marmalade swirled through the mix.
For those unsure of the prospect of haggis ice cream, Mackie's 19.2 is also running limited offers on haggis paninis and cranachan sundaes.
In December 2017, Mackie's of Scotland launched its exciting new venue, the first retail venture from the family-business which has grown to become one of Scotland's top food producers.
Named 19.2, the parlour is located exactly 19.2 miles from the Mackie's Westertown family farm, where it produces its renowned ice cream and chocolate ranges. It was the first business to open in Aberdeen's hotly-anticipated £107 million Marischal Square development.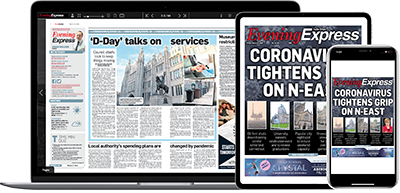 Help support quality local journalism … become a digital subscriber to the Evening Express
For as little as £5.99 a month you can access all of our content, including Premium articles.
Subscribe