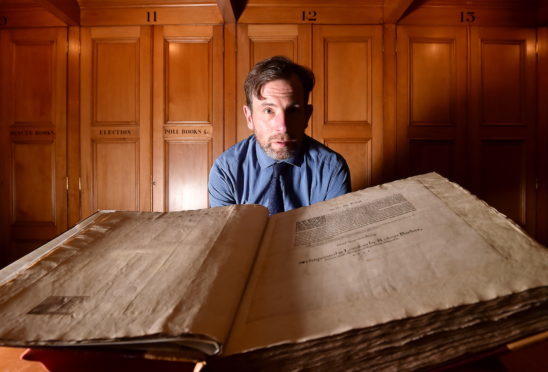 An original document ordering the search for a member of the Gunpowder Plot has been found in the city's archives.
The Lord Provost of Aberdeen, Barney Crockett, was keen to find out if the city's archives had anything relating to the origins of Guy Fawkes Night.
And the search unearthed a document dated November 5 1605, which relates to Thomas Percy, one of Guy Fawkes' co-conspirators, which urges the King's "Officers and loving Subjects" to search for him.
The proclamation describes Thomas Percy as "a tall man with a great broad beard, a good face, the colour of his beard and head mingled with white haires, but the head more white than the beard, he stoupeth somewhat in the shoulders, well-coloured in the face, long-footed, small-legged".
Mr Crockett said: "It's fascinating to think we have a document which was issued on the very day of the Gunpowder Plot.
"The description of Thomas Percy as a tall man with a broad beard, long-footed and small-legged suggests if you'd seen him you would definitely remember him."
---
---
Phil Astley, archivist at Aberdeen City and Aberdeenshire Archives, said: "This compelling document is a tangible connection to the Gunpowder Plot of 1605, which is still a source of public fascination after more than 400 years."
Guy Fawkes Night, also known as Bonfire Night and Fireworks Night, marks the events of the plot, when Guy Fawkes, a member of the Gunpowder Plot, was arrested while guarding explosives placed beneath the House of Lords.
To celebrate the fact that King James I had survived the attempt on his life, people lit bonfires around London. Months later the Observance of 5th November Act was introduced and enforced an annual public day of thanksgiving.