A rescue centre has thanked a Good Samaritan who stopped to help a seagull after it was left for dead on Aberdeen's Hilton Avenue.
The seagull, which has since made an unexpected recovery, was spotted lying in the road after being run over – and horrified witnesses then saw a driver deliberately try to hit the bird again.
A woman who stopped to help the bird was subjected to a tirade by the driver. She then took the gull to the New Arc animal sanctuary near Ellon.
Now the sanctuary's founders, Keith and Pauline Marley, have urged people to not think of themselves as animal experts in such situations.
Keith said: "The gull was in a terrible state and already injured when somebody swerved purposefully, aiming to run him over again.
"It is an awful thing to happen."
Pauline added: "A few people have said the driver may have been 'putting the gull out of his misery' but I think it's a case of outright cruelty.
"When a woman intervened, he gave her a mouthful of abuse, which must have been awful.
"Most drivers are not vets. How can they make an informed decision about whether running over a gull will help, or what its chances of survival are?"
The adult gull was taken to New Arc by its volunteer driver Angie Riddell on March 29.
Pauline added: "When he arrived, he was in a very bad way. He couldn't stand and had blood all over his beak. I didn't think he would make it through the night.
"He's made an awful lot of progress in the last few days and is now standing and doing much better.
"I am hopeful that we will be able to release him in about a month."
Angie said: "I'm so happy he's doing well, thanks to the girl who actually rescued him from the road.
"I dread to think of the outcome had she not stopped to help him.
"We both thought he wouldn't make it. I love a happy ending."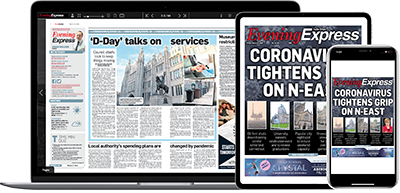 Help support quality local journalism … become a digital subscriber to the Evening Express
For as little as £5.99 a month you can access all of our content, including Premium articles.
Subscribe