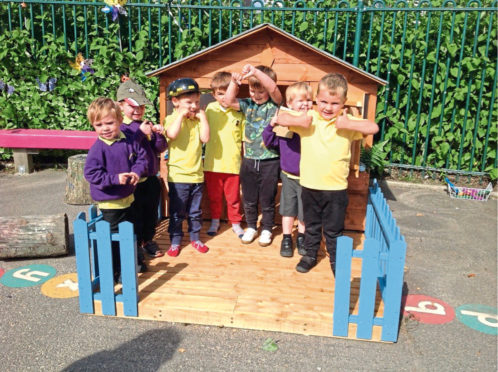 A Men's Shed group has loaned a hand to build a playhouse for children.
To get the organisation's name out there, the Men's Shed has been looking for projects in which they can make a difference to the Bridge of Don community.
Members have been busy in recent weeks, and most recently helped nursery children at Braehead School by creating a playhouse for them.
It is hoped more initiatives will be taken on.
Secretary of the group Eric Bisset said: "We're looking for hands-on things.
"We're not going to do people's gardens, as we don't want to take away from local companies, but if it's something that will benefit the community we'd be happy to do it.
"We've got lots of ideas. In the future we're looking at getting bikes from families that are finished with them, making sure they are roadworthy and donating them to schools in the area."
The Bridge of Don and District group also hosted a rock and roll bingo fundraiser on Wednesday night at the Black Dog pub.
Eric hailed the event as a great success and said it will help to get the word out about the Men's Shed.
He said: "It was perfect. We sold all of the tickets and the venue was packed.
"Everybody was chatting to everybody; it was a really social event."
The Men's Shed recently received planning permission to set up several portable cabins next to the Alex Collie Sports Centre.
He said the group will use the money to put towards future equipment, and members are keen to ensure one of their first purchases will be a defibrillator.
Eric added: "The last couple of months have really mushroomed. The word's really getting out about the group now.
"We had young parents of the children at the nursery come along to our event, so hopefully they'll tell their uncles and dads."
The Bridge of Don and District Men's Shed is open to everyone over 18 who lives in the area.
Anyone with an idea that the group could help out with is asked to contact bodanddmensshed@aol.com
Dates of meetings are posted on the Bridge of Don and District Men's Shed Facebook page.