A men's shed group is hoping to open the doors of its new base in the next few weeks after members completely transformed a former toilet block.
Organisers of Portlethen and District Men's Shed took over and refurbished former public loos in Portlethen through a community asset transfer.
The group has been fundraising since its establishment in 2014 to redevelop the former public toilets on Cookston Road into a "shed" where men can come together to socialise and work on various community projects.
Through fundraising and grants, the members have raised around £70,000 to date, including the receipt of a £10,000 grant from the National Lottery Awards for All scheme.
George Pringle, secretary of the charity, said: "The majority of the money has gone towards bringing the building up to scratch, and the rest has gone towards equipment."
The group also has a portable building at the back of the shed, which will function as an area for socialising.
Four years in the making, the group is almost at the stage of being ready to open, and is just waiting for a visit from Aberdeenshire Council and a completion certificate to come back before it can officially open to members – something which should take around a month.
George added: "We've got about 70 members registered, but not everyone comes along
"Once we're open we're expecting people to start coming back."
The facility aims to act as a focal point for projects involving Portlethen and the surrounding area, and it is hoped it will work to improve the local environment.
George said: "We are going to be involved with community projects. We're also going to be making crafts to sell as well, as we also need to make some money for maintenance."
For more information, or to get involved, visit www.portlethenmensshed.co.uk or visit the group's Facebook page.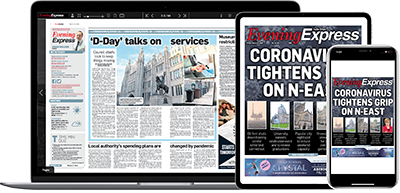 Help support quality local journalism … become a digital subscriber to the Evening Express
For as little as £5.99 a month you can access all of our content, including Premium articles.
Subscribe