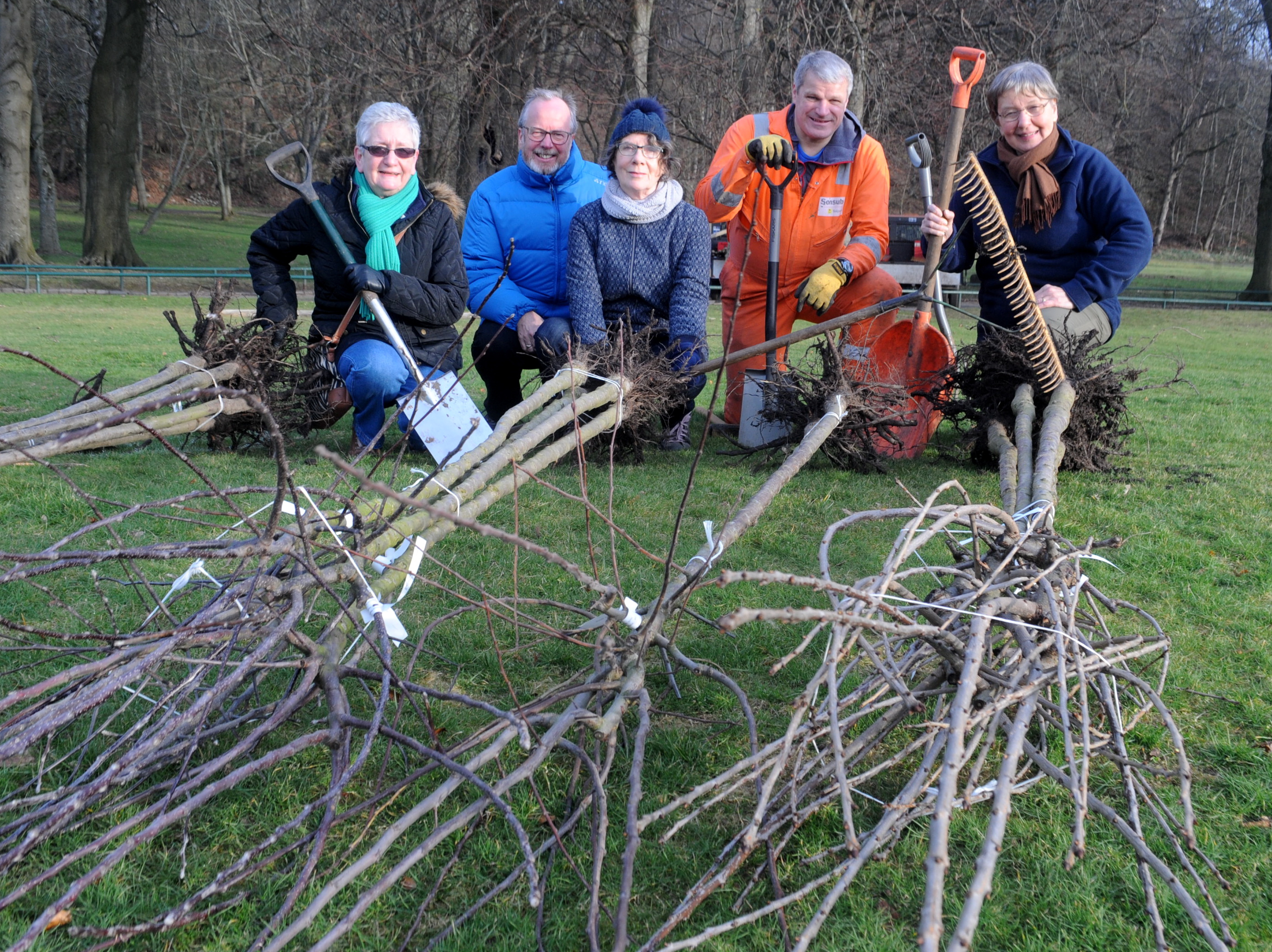 A community orchard has been planted in a popular Aberdeen park.
Around 20 trees were set in Seaton Park by the Friends of Seaton Park group.
The fruit from the trees, including apple, pear, plum and cherry trees, will be free for the public and park visitors to pick and eat as they please.
Sheila Gordon, chairwoman of the Friends of Seaton Park, said the group had some unexpected help.
She said: "A group of schoolchildren from St Peter's had been coming to the park to do a wellie walk and when they saw we were planting trees they were desperate to join in.
"We had 22 wee helpers. It was just by chance that they turned up.
"It was nice to see the youngsters there."
The fruit trees were funded by Aberdeen Greenspace.
Sheila added: "It was funding they gave us to help with the celebrations for the 70th anniversary."
She said the trees were placed in an area of the park that was largely unused, and joked that they had made sure not to encroach on any football pitches.
Sheila added: "It's building for the future.
"It also gives an opportunity for children to see where food comes from."
The cherry trees could blossom in a matter of weeks, however, pear trees may take years to come to fruition.
It comes after working-train-turned-children's-play-equipment Mr Therm returned to the park.
Playtime for the iconic train hit the buffers last May when it was dismantled and hauled off to Kilmarnock for repair work and a new lick of paint.
Mr Therm returned to the park at the start of this month following the £60,000 revamp.
Sheila said: "Friends of Seaton Park would like to thank all the volunteers who came to help. We especially appreciated the professional assistance of Aberdeen City Council gardening staff."
Councillor Ross Grant, who represents the area, said: "It marks another positive step from the Friends of Seaton Park towards making the park what everyone wants it to be. This being the all-important anniversary, I can only commend the Friends and staff on site for the delivery of the orchard."