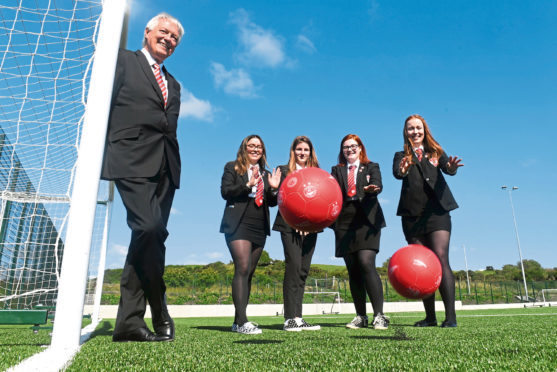 A new health initiative – which is the first of its kind in the UK – is a "magical opportunity" to help the mental health of children in the north-east.
Aberdeen Football Club and AFC Community Trust (AFCCT) have joined forces with US-based Grassroot Soccer to roll out a football-inspired education programme for young people.
As reported yesterday's, the scheme was launched at the new £47 million Lochside Academy, which will run the pilot.
It is anticipated 400 to 500 pupils at the school will go through the initiative that utilises sport to combat mental health issues.
AFC Community Trust chief executive Ally Prockter and the charity's director Duncan Skinner both welcomed the new scheme.
Ally said: "It is quite apparent that there is an issue with mental health and it is quite a broad issue with many aspects.
"This new initiative is one example of how we are trying to approach this and the relationship for us to be approached by Grassroots Soccer and be provided with this opportunity through the club is an absolute magical opportunity.
"Neil Hendry, the head teacher at Lochside, also sits on our board and it gives three award-winning partners the chance to sit down together and deliver something that will help people. The children will be involved in developing this programme."
Grassroot Soccer was founded by Tommy Clark, son of legendary Aberdeen and Scotland goalkeeper Bobby Clark.