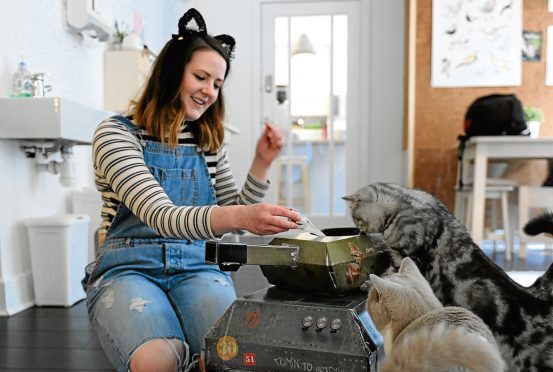 The owner of Aberdeen's only cat cafe today said she was "surprised and overwhelmed" after the public rallied to save her business from soaring business rates.
A public appeal was made in a bid to raise the £9,000 needed for the Cat in the Window Cafe, on the city's Netherkirkgate, to survive.
The cafe, which opened in February 2016, is the brainchild of owner Heather Lynch, who started the venture when redundancies started being made at the oil and gas firm where she had previously worked.
In total, nine cats are in residence at the cafe, and hang out with customers as they enjoy tea, coffee and home bakes.
Already more than £6,900 has been raised from the crowdfunding appeal in just a day.
Heather said: "I'm really surprised and overwhelmed. It's amazing how much people have supported us.
"There was just no way we could get the funds together.
"For future years we have plans in place. But for this year we just didn't have anything, I don't think anyone expects that. Who has £9,000 extra a year?"
The cafe paid rates of £2,500 in 2016. But this year their business rates bill more than tripled to £9,087.
Heather added: "I don't think small businesses can financially cope with new business rates, with everything that is happening in Aberdeen.
"As a small business owner, I imagine a lot of others are the same.
"We don't take in a lot of money at all. There's very little financial gain in it for me. At the moment we're just trying to keep afloat.
"We're doing well but the expenses are just ridiculously high and now this on top of it."
Firms in the North-east had faced hikes in their rates of up to 250% based on property values assessed before the full effects of the oil downturn were felt.
But, in February, the Scottish Government bowed to pressure to help struggling firms by capping rates increases at 12.5% for the hard-pressed hospitality and office sectors after months of growing unrest.
And in June Aberdeen City Council approved its own £4.4 million business rates relief scheme to provide relief for businesses in the city.
The Cat in the Window Cafe's owner was told yesterday she can expect to receive transitional relief from the city council for the next year.
This will see £1,000 taken off the business rates bill but still leaves more than £8,000 outstanding.
A Government spokesman said: "The recent revaluation of business rates was undertaken by independent Assessors appointed by local government, with the Scottish Government having no part in the process.
"Any business with concerns can contact their local Assessor to discuss how their revaluation was arrived at, and also has until the end of September to appeal their rateable value through independent processes.
"The Scottish Government has committed to around £660 million of business rates relief this year, including an additional £7.5m announced specifically for rates relief for businesses in Aberdeen.
"Local councils administer this relief, and we would strongly encourage Aberdeen City Council to promote it with local businesses to ensure they maximise take up."
Responding to the cat cafe's complaints, an Aberdeen City Council spokeswoman said: "Aberdeen City Council is not responsible for business rates valuations and the recent revaluation exercise was conducted by Grampian Assessor in accordance with the Valuation Statute.
"This revaluation was a Scotland-wide exercise and was not restricted to Aberdeen or the North-east.
"Prior to 01 April, this business was eligible for a 25% reduction in the rates charge through the small business bonus scheme as set by the Scottish Government.
"However, as the rateable value increased above the threshold, this reduction is no longer available.
"It must be stressed that the small business bonus scheme is determined by the Scottish Government and Aberdeen City Council has no discretion to vary the threshold or the levels of relief.
"The council cannot grant transitional relief and local rates relief together.
"Even if we were to consider local rates relief only under the recently agreed Aberdeen City Council scheme, the level of relief would be exactly the same."
For information on the crowdfunding campaign, or to donate, visit www.crowdfunder.co.uk/help-the-cat -in-the-window-cafe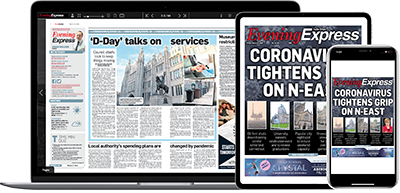 Help support quality local journalism … become a digital subscriber to the Evening Express
For as little as £5.99 a month you can access all of our content, including Premium articles.
Subscribe