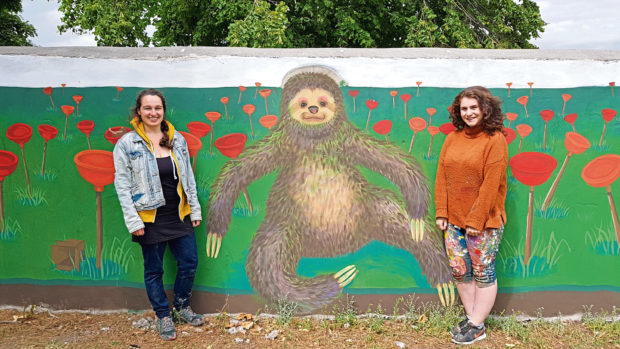 An Aberdeen park has been brushed with colour after two art students let their talents loose on one of its walls.
German student Leila Kleineidam, 23, and Claire Kidd, 22, from Dyce, were tasked with painting the work along a wall in Eric Hendrie Park, Mastrick.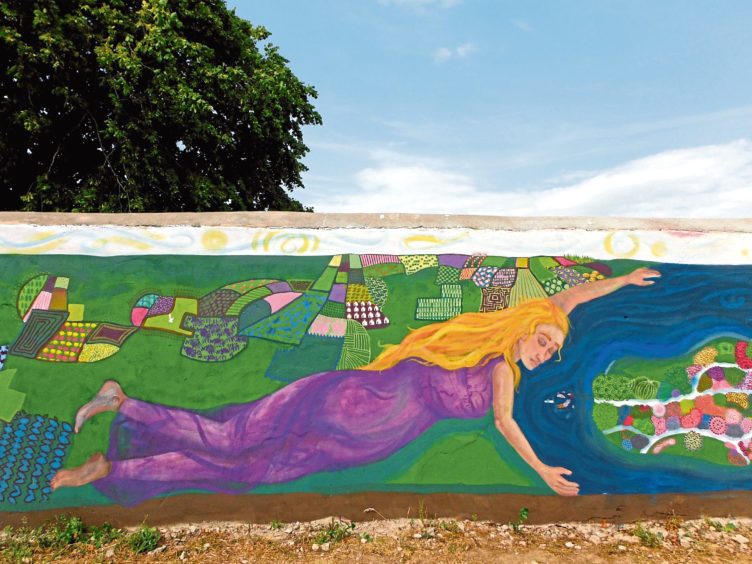 The piece was commissioned and funded by the Springhill Park Community Group.
Leila and Claire, both third year painting students at Gray's School of Art, share a studio and when Leila was asked to take on the project, she asked Claire, a friend of hers, to join in.
Leila said: "We were just finishing our third year and our lecturer was contacted by the Springhill Park Community Group, saying they had a large stretch of wall that was left unpainted.
"They were looking for students who would be able to put something up and they had funding for the materials.
"Our lecturer approached me about it and I asked Claire, who is my friend and colleague. We both decided to go for it."
Claire added: "As soon as Leila told me about it, I was on board.
"I've always wanted to work on a scale that size.
"Leila had a rough plan of what was going to go on the wall and once I got involved, I tried to add some things that I had been working on during the year, but that had not quite made it in any of my work at university.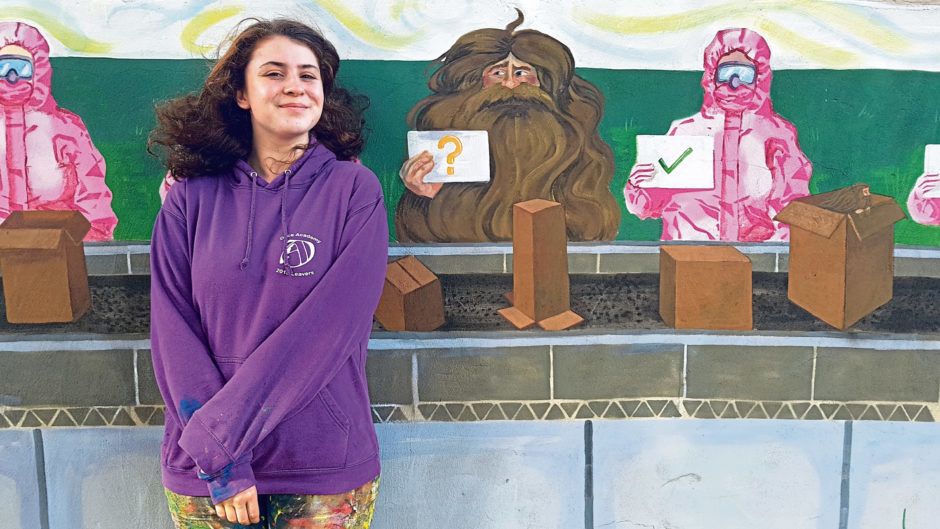 The two friends spent 10 straight days painting the mural, which Claire said was trying to make a series of points about society, without being "preachy".
The mural features commentary on the prevalence of social media, as well highlighting pressures on the environment.
Claire said: "The wall had some things on it that we were concerned about, like plastic in the sea and climate change.
"It wasn't the case that we wanted to guilt trip people, but we wanted to raise these things in a way that might start some conversations."
Leila added: "Obviously, we didn't want to bring that across negatively or depressingly, we just wanted to add some colour into the local community."
Leila said she also wanted to show parts of the Aberdeen and Aberdeenshire landscape, as seen from above.
Claire admitted the painting was difficult, especially since the scale of it was much larger than either of them had ever worked on before.
She said: "We didn't know how much paint it would take to cover a wall that size, because the most that I had ever worked on was maybe two metres long, so getting used to that staggering change of scale was quite hard."
Both students said they spoke to passers-by during their time painting and even had people checking on their progress throughout the 10 days.
Brian Beattie, chairman of the Springhill Park Community Group, said: "We already have a graffiti mural in the park that was done last year and we were looking to do something else.
"We found Leila through the university and she was quite happy to take the work on.
"We're hoping it helps to attract people to the park and the area as a whole."
The group is working with Aberdeen City Council to redevelop the nearby playpark, which was vandalised earlier this year and is hoping the mural will help to improve the park.
Brian added: "I've been up there every day since they finished and I've had people coming up to me to tell me how good they think it is and I know the girls had the same thing.
"People really seem to like it."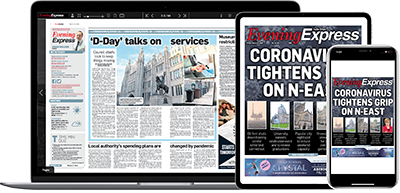 Help support quality local journalism … become a digital subscriber to the Evening Express
For as little as £5.99 a month you can access all of our content, including Premium articles.
Subscribe