Volunteers who help save dolphins and whales stranded on the country's beaches descended on Aberdeen for the first mass training event held in Scotland for more than five years.
Around 50 marine mammal medics turned out at Footdee to take part in a mass stranding exercise, organised by the British Divers Marine Life Rescue (BDMLR).
The organisation works to rescue and refloat stranded marine mammals around the UK and has teams of volunteers around the country.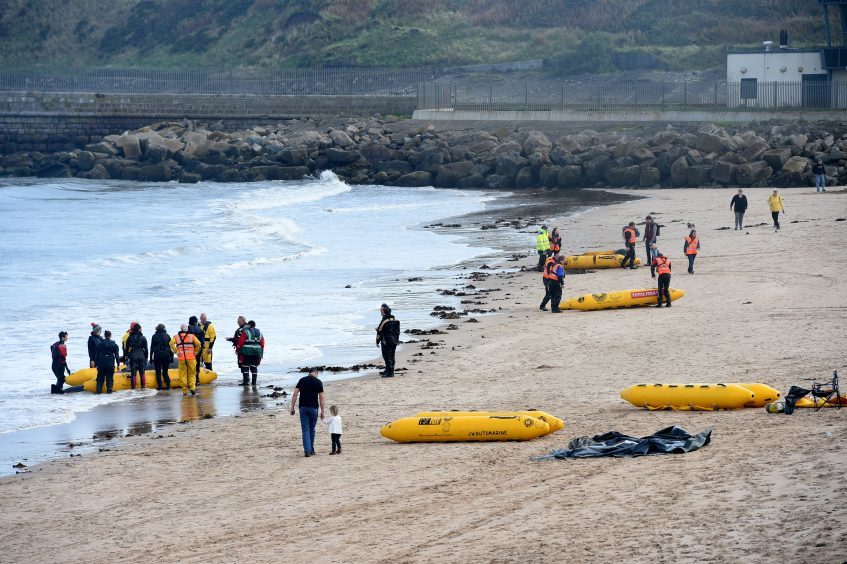 The training event on Saturday was the first full mass stranding exercise in Scotland since 2011, and volunteers from around the country attended.
Medics used a number of lifelike models – which were filled with water to simulate the actual size and weight of a real pilot whale.
Despite the majority of mass stranding events taking place on Scottish beaches, individual local teams do not have the resources to hold such large events.
North-east Scotland regional co-ordinator Colin McFayden said seven models – each of pilot whales and dolphins were used – with the dolphins weighing between 200-215 kilos (31-34 stone) and the whales around two tonnes.
Colin said: "These are all trained medics, it's a great opportunity for them to have an incident with a lot more complications than they would normally have – a normal training course will have one whale and one dolphin.
"This throws a lot more issues into the mix, different animals and different aspects.
"Aberdeen is central in Scotland for the medics with relatively good access. Scotland as a whole gets quite a lot of these things, we have 85% of the UK's mass strandings – that can be anything from three upwards."
And he added that the mass training events take a lot of organising, saying: "We have had to co-ordinate the animals from all over the country, the volunteers and the kit, there's been quite a few months in planning, which is why this is the first one held in Scotland since 2011."
The last mass event was held in Lincolnshire last weekend, with courses held regularly around the UK.
The medics taking part in the exercise were split into two different teams, one working with the dolphins and one with the whales.
Among those taking part was Lindsey Hanekom, from Huntly.
A marine mammal medic for the Aberdeen and Inverness areas, she was involved in the whale section in the exercise.
She said: "There's the whale team and the dolphin team, but both replicating a mass stranding.
"The first thing we do is triage them, to see if they are alive or dead, we see if they are healthy, what their skin tone is like, what their body tone is like.
"If they are ill, we keep them wet and moist to keep the pressure off."
Elgin woman Lisa Forsyth, a marine mammal medic for the Inverness and Moray area, was also at Footdee, working in the dolphin section.
She said: "I've not been involved in an exercise like this before.
"I think this type of event is every five years, you are either available or not, and this is the first time I have been.
"Obviously, we are all volunteers as well.
"The stranding events are rare, luckily, but if they happen at least hopefully this will come into play."
Mass stranding training events allow the teams to trial new rescue techniques as well as refreshing their skills.
Paul Smith, area co-ordinator for Dundee, Perth and Angus, said: "We need to do this periodically to get people trained up and hone their skills to make sure everybody is ready for a real incident and this is a good way of doing it, using the model whales that we have got.
"It can't train you for the real thing, but it's as near as we are going to get."
Live incidents of whale strandings can take a lot of work by the medics involved.
Paul said: "You need a lot of people when you are doing this especially for the larger animals."
Paul said the team had to wait for the tide to come in before going through the whole procedure of the rescue, administering first aid and refloating the animals.
He added: "If the sea state gets too bad then we can't refloat – that may happen in real life as well, there's loads of variables with this, you are dealing with mother nature at the end of the day."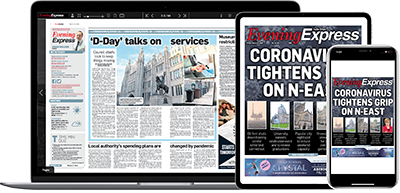 Help support quality local journalism … become a digital subscriber to the Evening Express
For as little as £5.99 a month you can access all of our content, including Premium articles.
Subscribe