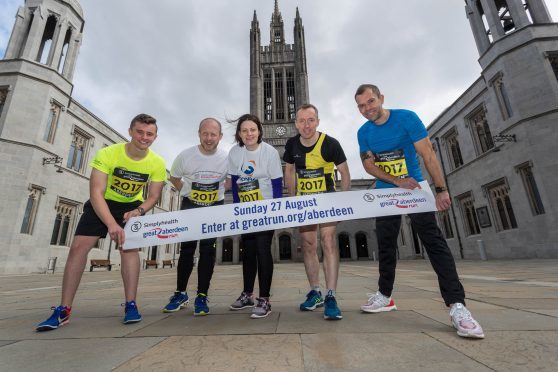 Two fundraisers who have overcome the odds to carry on running are urging people to join them for the first Great Aberdeen Run.
Neil Skene, Nick Murray, Steven Brown and Adam Swinton all told the Evening Express their inspiring stories in a bid to encourage others to sign up for the Granite City event.
They will all be running for causes close to their hearts as they set off from and finish at Union Street on August 27.
Thousands of runners of all ages and backgrounds are expected to tackle either the 10K, half marathon, family mile or business challenge around Aberdeen.
Steven Brown, who has endured six operations on his legs, is looking forward to the race after competing in the London Marathon at the weekend.
The 19-year-old from Inverurie said: "A couple of days ago I took part in the London marathon which was one of the best days of my life. A few months ago I saw Aberdeen was doing a half marathon and decided I couldn't miss it for the world.
"When I was younger my left leg started to grow more than my right leg, so they had to slow that down and then let my right one grow, which was a success. Now they are the same size.
" I would encourage anyone who may have suffered with an illness or had problems to get involved in the Great Aberdeen Run."
Nick Murray, who suffered a brain haemorrhage 14 years ago, has taken part in runs and obstacle course races since his ordeal. The 44-year-old from Portlethen is looking to raising money for the Neuroscience ward at ARI.
He said: "This is the first time I have ever done this distance, I normally do assault course races but this is the first time I have done a half marathon.
"The lure of running through the streets is definitely a plus for me.
"I am very lucky to be alive after the haemorrhage, two-thirds of people die from what I had and 40% of the remaining third have a disability. I do things like this because I am still here.
"I have a scar on my head and a dent on my forehead, but other than that I'm fine."
Neil Skene, 50, from Inverurie, works for North East Sensory Services as a fundraising co-ordinator and has been blind since he was a teenager.
He said: "I'm running the race to give something back to NESS, and to ensure that their services keep going.
"It's to try to inspire younger kids really. Get some money to inspire the youngsters, to let them see that they can achieve anything they want to achieve. It's not so much the financial side for me, it's the acting as a role model for them, and for them not to be scared to try things."
"It's great that it's coming to Aberdeen. We had a marathon donkey's years ago, but I think it's great that it's come to the city."
Another fundraiser Adam Swinton, a dispatch manager, is taking part to honour a friend who died in April last year. His late friend's son is autistic so Adam, 49, has decided to raise money fro the National Autistic Society.
He said: "My friend died last year so I wanted to do something to remember him by and also to help raise money for the National Autistic Society.
"I think that autism is something that everyone can relate to as it can probably affect many people in one way or another."
"Join the Great Run to help change lives", Page 24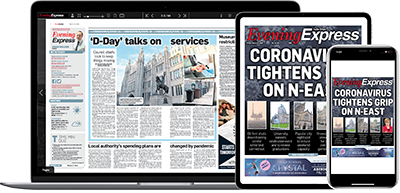 Help support quality local journalism … become a digital subscriber to the Evening Express
For as little as £5.99 a month you can access all of our content, including Premium articles.
Subscribe