Gallery: North-east children spreading rays of hope with rainbow pictures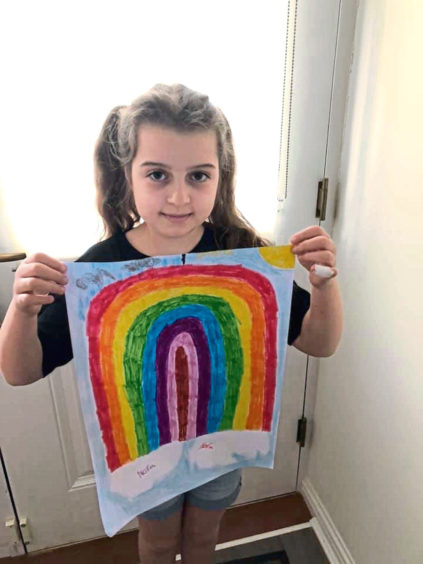 Thousands of creative youngsters from the north-east are raising spirits during the coronavirus pandemic – with the power of the paintbrush.
Children and their parents from across the region have joined online "rainbow" groups and have displayed colourful artwork in their front windows in a bid to boost morale of passing emergency service workers.
The clever crafts are also keeping youngsters occupied while off school – and parents are challenging them to see how many rainbow designs they can spot out on walks.
Rainbow groups have sprung up online in recent days in Bridge of Don, Elrick, Peterhead, Meldrum and others, with hundreds of families signing up to each groups.
And those helping organise the groups say they have plenty of plans to keep children occupied and emergency services smiling in the coming weeks.
Emma Benzie, 36, of Meldrum said: "The plan is to agree a different theme each week so all the children draw the same thing and display it in their windows.
"We were thinking that one week could be a challenge to draw a positive message for emergency service workers so they know we're all behind them."
The idea came from parents in Italy and USA.
Emma, a mum of two, added: "It's been so popular. We have had more than 300 people join our group, called Look for Rainbows Meldrum and Surrounding Areas, since Saturday. The kids love it."
Christina Daniel, who lives in Elrick, and her five-year-old son Elijah, have also been busy brightening up their neighbourhood by creating rainbow pictures and displaying them in windows
With her son bored at home and missing his friends, Christina decided it would be a good project and made a Facebook page called Rainbow trail Westhill and Elrick.
While out on walks, Elijah can hunt for the colourful drawings at homes in nearby streets.
Christina said: "We made a rainbow out of paint and stuck it on our window so people can see it when they pass,
"Elijah wanted to go and hunt for more on Friday and was very disappointed when he couldn't find any. I decided to raise awareness about this and made a private Facebook group for Elrick and Westhill, which has grown massively since."
More than 650 people have joined the group including isolated elderly people.
Christina said: "It is a nice happy and cheerful story considering all the things happening at the moment."
Westhill and District Councillor Iris Walker also got involved in the rainbow trail, putting one in her window.
Fellow resident and mum-of-two Pam Cheyne said: "It's a great way of bringing hope, joy, smiles and love to every single age group."
Another Facebook group created in the Buchan Corner is called Peterhead Follow the Rainbow.
Member and mum-of-one Rebecca Mathieson, 33, said: "It's lovely to see so many people involved."