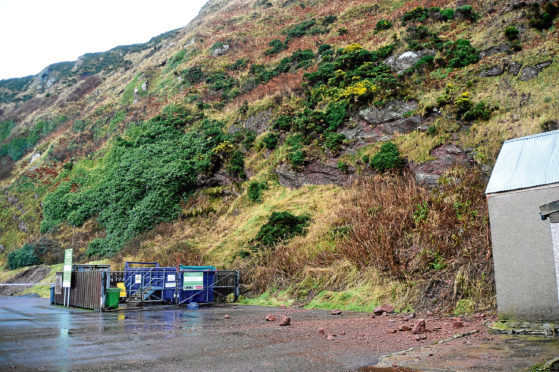 Residents of a north-east village will soon be able to drive along a road for the first time in seven weeks – thanks to a clever gadget.
Gardenstown suffered a landslide on March 7 and vehicles have been unable to get down Harbour Road since, except for certain periods when traffic is supervised.
Work has started this week to solve the problem, and engineers are installing a device in the hillside which detects further landslides and turns traffic lights red.
Once that is up and running on Friday, the road will fully reopen.
Work on making the hillside fully safe will take another six weeks.
Aberdeenshire Council, which has been working to fix the problem, has appointed Glasgow-based geotechnical firm BAM Ritchies to do the work on an "interim engineering solution".
"On completion of this work, which involves soil nailing and the use of mesh, it should be possible for the road to safely return to being open for unrestricted access," said a council spokesman.
He added: "A slope-monitoring system and other safety measures will be installed and will allow the road to open fully (but under traffic light control) from Friday.
"The monitoring system will be linked to traffic lights, which can stop access should any movement in the slope be detected.
"With the safety measures in place, it is hoped the road can remain open during the subsequent installation of the six-metre-long soil nails and steel meshing system."
A drop-in session takes place at Dreel Hall from 9am-8pm tomorrow so people can learn more and ask questions of BAM Ritchies staff, council staff and representatives of the council's consultants, Atkins.
A formal road closure order is in place until August 31, but would only be implemented in the event of further safety issues.