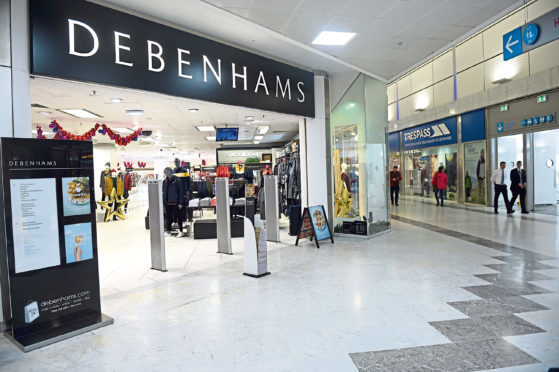 The future of Aberdeen's Debenhams store was uncertain today after the firm announced it will close 50 branches over the next five years.
It is currently unknown if the Aberdeen branch, in the Trinity Centre, is one of the 50 stores earmarked for closure by retail bosses.
Debenhams, which has 166 stores, had previously stated it planned to close 10 stores.
A Debenhams spokeswoman said: "We have identified up to 50 stores, accounting for under 15% of total sales, which are currently profitable, but where we do not see a long term future and which we intend to exit over the next three to five years.
"This is an ongoing five year programme and we are not disclosing a list of these stores."
Chief executive of Aberdeen Inspired, Adrian Watson said: "This will understandably be a worrying and apprehensive time for thousands of staff at Debenhams, not least in Aberdeen.
"We need to wait for future developments, but the department store has long been an institution in Aberdeen and continues to serve tens of thousands of customers on a daily to weekly basis.
"Aberdeen Inspired understands that the traditional high street is changing and in our local circumstance we have to take some charge of this through prioritising the City Centre Masterplan, that has already delivered significant change, with more offices and city centre living options springing up.
"This is the changing face of the high street and where the role of Aberdeen Inspired is hugely important, as we work to increase footfall within the city centre and bring in initiatives to support our retailers as best we can.
"We are fortunate that Aberdeen as a shopping destination has a strong retail presence in our city centre, with both nationals and some fantastic independents."
It comes as Debenhams reported of record losses of £491.5 million in the year to September 1 primarily relating to store and lease provisions, IT costs and impairment charges.
The loss compares with a £59m profit in 2017.
Boss Sergio Bucher said: "It has been a tough year for retail in 2018 and our performance reflects that.
"We are taking decisive steps to strengthen Debenhams in a market that remains volatile and challenging.
"We are taking tough decisions on stores where financial performance is likely to deteriorate over time.
"I can promise my 26,000 staff across the UK that we will work very hard to protect as many stores and as many jobs as we can."