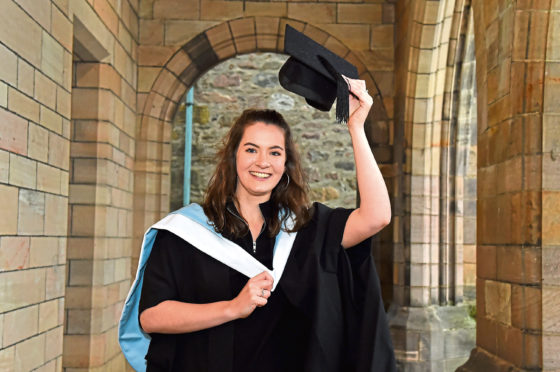 A woman named as one of the world's top 50 future leaders has graduated from an Aberdeen university.
Emma Jones, 27, from Aboyne, was selected for that accolade by the British Council, which selects people from across the world with the potential to impact policy or politics in the future.
But yesterday she graduated with a Masters in International Commercial Law with Professional Services from Aberdeen University.
Emma said that the university was "fantastic" with supporting her throughout her time at university.
She said: "With my background in policy, I put forward a proposal, and the university were so good with me by giving me time off and extensions that would give me the time that I needed to work on my proposal."
The former Bradford University student returned to the north-east to study for her Masters, which she gained with distinction.
Following her postgraduate degree in international development and peace studies, Emma spent two years in Uganda working for the country's most respected thinktank, the Advocate's Coalition for Development and Environment.
She said: "It's quite hard to get a job related to peace studies, and I had already done an internship with this organisation at the end of my first year.
"So when I graduated, I went out there to be a programme assistant."
During her time in Africa, Emma was involved in several different projects.
She said: "Day-to-day, I'd be doing a lot of research, report writing, data collection, management and we used to hold monthly events called State of the Nation Platforms.
"At its peak, we had 650 people at one event, which was great.
"It was something quite special to be part of the organising team that brings so many different people together to talk about peace, and for young people in the military to converse in quite a productive way."
The team that Emma worked with in Uganda helped push her on during her studies at Aberdeen.
She said: "The whole team were so tenacious and the level of commitment and hard work that they did was incredible.
"We were answering questions that don't necessarily have concrete answers, and that really helped me.
"I'd never studied law, so that type of writing really helped me.
"But the biggest lesson for me was that if you want to get something done, then you just dig your heels in and get it done."
After managing to get her current job as a tax advisor at the Reading office of tax firm KPMG, Emma was forced to cram two months of university work into just two weeks.
Emma's hopes of returning to the north-east were given a boost when she was awarded a Scottish Government scholarship.
She said: "That helped a lot, it took some pressure off, so I don't know who you should thank about that, but that made a huge difference."
Emma urged people who are about to start university to know what they want from their time.
She said: "Know what you want going into it, and what you want coming out of it.
"So if you know that you want to help people, go into medicine or politics.
"It's part of a process and you need to see it as that.
"If you're going to do it, then go ahead and do it, but if you think that maybe a degree isn't for you, then there shouldn't be any pressure on you to do it."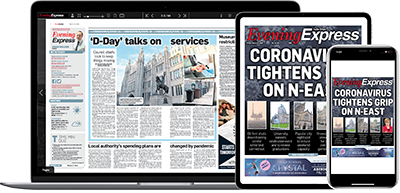 Help support quality local journalism … become a digital subscriber to the Evening Express
For as little as £5.99 a month you can access all of our content, including Premium articles.
Subscribe