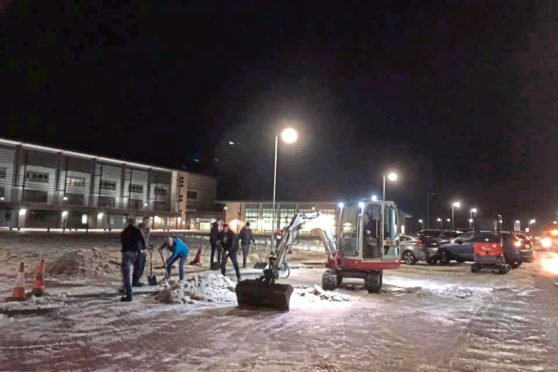 A fundraiser has been launched to buy snow clearing equipment for a north-east school.
The parent council of Ellon Academy Community Campus is looking to raise more than £8,000 to help for years to come.
If successful, an Arctic Cat off-road vehicle would be purchased along with a snow plough kit and towable gritter.
The £36 million community campus was opened in 2015 after a two-year construction and is home to the academy, swimming pool and community centre.
Last year residents helped clear ice from the school after wintry conditions caused issues at the school.
Councillor Anouk Kahanov-Kloppert, who represents Ellon and district and is also part of the parent council, said it could actually be used to help other areas around the town if it was successful.
She said: "Specialist equipment to tackle extreme ice and snow experienced last winter could really help to the janitorial team who have to keep essential footpaths open on the school grounds for staff and children.
"The new school grounds are much larger than at the old school. With specialist equipment this could be done faster and would help keep us all safe and access reliable.
"If our parent council could fund this the whole community could benefit."
The parent council is looking to raise £8,247 to buy the equipment. Anyone wishing to donate to the campaign can so by visiting gofundme.com/snow-clearing-equipment
A spokesperson for Aberdeenshire Council commented: "We maintain a vast road network totalling 3424 miles and have to prioritise which routes are gritted and ploughed accordingly.
"More than 1,000 miles of busy commuter routes are attended to first. We welcome the support of local volunteers to tackle paths and car parks, particularly during times of heavy snowfall.
"We are grateful to the Parent Council of Ellon Academy for working with the school's leadership team in coming up with a proactive plan should the weather be particularly nasty this winter."