Funding of almost £2 million has been awarded to a north-east oil and gas centre.
The Oil and Gas Technology Centre (OGTC) received £1.9m from a Scottish Government scheme.
The new National Decommissioning Centre of Excellence, a partnership between Aberdeen University and the OGTC, will be based at the Oceanlab facility in Newburgh.
Scheduled to open later this year, it will tackle current and future challenges for the oil and gas industry.
Funding from the Scottish Government's Decommissioning Challenge Fund was confirmed by Business, Innovation and Energy Minister Paul Wheelhouse.
He said: "The Decommissioning Challenge Fund has been a successful vehicle for funding a broad range of interesting decommissioning projects and levering in private sector investment.
"We believe working with the Oil and Gas Technology Centre and investing in the Decommissioning Centre of Excellence will expand the reach of our funding and further support sector innovation.
"This will enable advances in reducing the cost of decommissioning and confirm Scotland's place as a global centre for decommissioning expertise."
Roger Esson, decommissioning solution centre manager, said: "We're delighted to have secured this important investment from the Decommissioning Challenge Fund.
"We want to transform the future of decommissioning, and the funding will help create an environment that fosters innovation, and where academia and industry can work together on cutting-edge solutions."
The funds will be used to develop digital technology for the industry to help academics and oil and gas firms work together.
The money will also go towards an underwater cutting laser which could save the industry up to £90m, a computer lab to allow the centre to tackle complex projects, and enhanced manufacturing and workshop facilities at the city's Oceanlab site.
Richard Neilson, dean of research and knowledge at Aberdeen University, said: "We are tremendously excited to be working alongside our partners in the OGTC as part of this project ."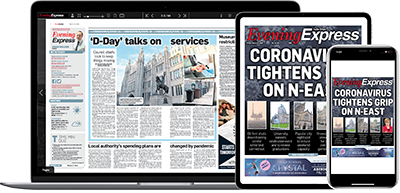 Help support quality local journalism … become a digital subscriber to the Evening Express
For as little as £5.99 a month you can access all of our content, including Premium articles.
Subscribe