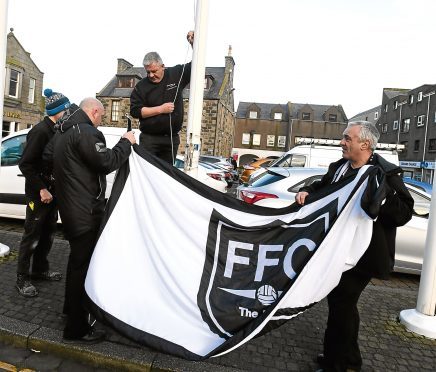 A North-east football club's flag has been raised in the centre of a town ahead of the biggest game in its history tomorrow.
Co-chairman of Fraserburgh FC Supporters' Club and local councillor Brian Topping said he was bursting with pride as the flag was hoisted aloft ahead of Fraserburgh FC's Scottish Cup clash with Glasgow giants Rangers.
Cllr Topping said: "I had discussions with Aberdeenshire Council which was happy to oblige and we got it up.
"We really are flying the flag for Fraserburgh FC and I'm absolutely delighted as a fan and delighted as a councillor to be of help.
"As a fan it is special, it's a great honour. It's flying so majestically and it looks great flapping away there.
"It's a first for a Highland League club to have a game shown on Sky Sports and it's a first to have their flag flown in the town centre and it's there with great pride. Some fans came down to see it being unfurled and the excitement is mounting as we get nearer to the game itself."
Football fans create hay bale mascot ahead of Fraserburgh's Scottish Cup match
Plans for a competition for residents who decorate their house windows, gardens or fences ahead of the game has also been unveiled. "We're running a competition for the best home decorations," he added
"People need to send in pictures and we've got some prizes.
"It will be judged late tomorrow afternoon as we appreciate people doing this might be doing it on the day. The winners will hopefully be announced at the match and on the Fraserburgh Supporters' Club website.
"It's a historic day so whether you are going to the match or not do up your window, your garden or your fence and get involved."
Looking ahead to the match he said he hoped the players would give a good account of themselves.
"If we play as well as we can that's all we can ask for – after all this is Fraserburgh's Scottish Cup final," he added.
Any entries for the competition should be sent to cllr.b.topping@aberdeenshire.gov.uk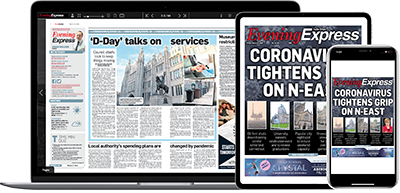 Help support quality local journalism … become a digital subscriber to the Evening Express
For as little as £5.99 a month you can access all of our content, including Premium articles.
Subscribe