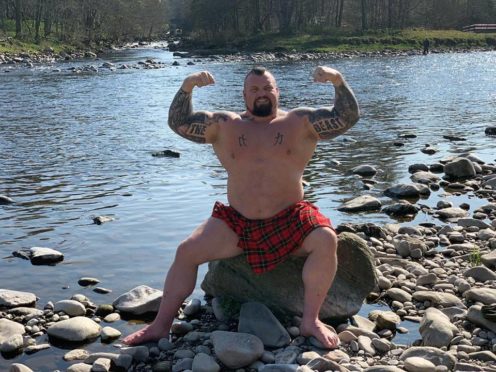 Some of the world's strongest men will be in the north-east tomorrow for a tug o' war challenge.
Eddie Hall, Brian Shaw, Nick Best and Robert Oberst will take on a local team as part of a feature for The History Channel.
The event will take place at the Braemar Highland Games park between 9.30am and 4.30pm on both Friday and Saturday.
The new show will be looking at some of the Highland Games heavy events, as well as the Dinnie Stones.
English strongman Eddie Hall holds the world record for deadlift, lifting an incredible 500kg. He has also won both the UK's Strongest Man and England's Strongest Man titles multiple times.
American Brian Shaw has won the World Strongest Man title four times, most recently in 2016. The last two years he has finished third in the prestigious competition.
Our amazing lodge we are staying at this week in Scotland! #mastersworldsstrongestman #worldsstrongestman #worldsstrongestfamily #performaxlabs #ironrebel #playagainnow #wowstraps #strongman #powerlifting #thanos #beststrong #fuckage

Posted by Nick Best | Pro | Strongman on Wednesday, 17 April 2019
The line-up is completed by Nick Best – a world champion powerlifter – and Robert Oberst, a yearly competitor in World's Strongest Man and a finalist in 2013 and 2018.