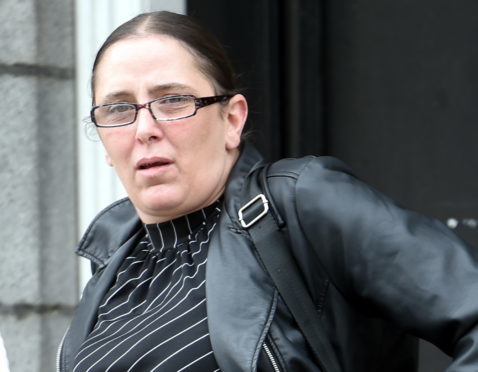 The former partner of a man accused of killing another man shouted out a window branding him a "murderer", a trial has heard.
Ryan Gibb, 32, and Cameron Laurie, 33, deny murdering James Chadwick with a dog lead at his flat on the night of August 31 into September 1 2015.
Marion Laurie, Cameron's sister and Gibb's partner at the time, gave evidence at the High Court in Aberdeen yesterday.
Advocate depute James Keegan asked her what she had told police about a conversation at her flat on September 8 2015 with Gibb. She said: "I told the police that I was shouting at Ryan that he was a murderer. I was shouting out the window."
Keith Stewart QC, representing Gibb, asked Ms Laurie: "Could it be that when you shouted that you were a bit confused about things you're hearing from people?"
She agreed it could have been. However, when later questioned by Brian McConnachie QC representing Laurie, she contradicted that response. He put it to Ms Laurie she didn't know what happened between the two accused and Mr Chadwick because she was not there.
She agreed and said: "I only know what Ryan told me." The QC said: "The only person who has ever told you anything is Ryan Gibb?"
Ms Laurie agreed and Mr McConnachie asked: "When you were shouting 'murderer' at Ryan Gibb you were not confused by anything you'd been told by anybody else?"
She replied: "No."
Evidence was also given by Karen MacKenzie, Laurie's former partner.
Mr Keegan read a transcript of a phone conversation between Laurie and Ms MacKenzie, in which Laurie said: "It wasn't planned though. It was like a spur of the moment."
He asked the witness what the conversation was about and she said: "I'm presuming it's why we're here."
Gibb and Laurie are alleged to have murdered Mr Chadwick, at his Holland Street flat, by striking him on the face, punching and pushing him, repeatedly striking him with a dog lead or similar and kicking and stamping on his head and body. They are further accused of attempting to defeat the ends of justice.
The trial before Lord Burns continues.