Former north-east care home hit by fire to be demolished by Christmas
A former care home ravaged by fire will be demolished by Christmas, the Evening Express can reveal today.
Work has started to tear down the Blythewood Care Home on School Road in Port Elphinstone.
A major investigation was launched in April after a fire broke out at the property.
More than 70 firefighters tackled the blaze for almost 10 hours.
At the time, smoke could be seen throughout the town, with members of the public urged to avoid the area after roads closed for several hours.
Since the incident the property has been fenced off by Aberdeenshire Council.
Councillor Lesley Berry, who represents Inverurie and district, said is was unfortunate the building would need to be destroyed due to "mindless vandalism".
The house was converted from a private residence into a care home in the early 1950s.
However it had been empty for more than two years after residents moved into the new £10 million Bennachie View facility on the outskirts of Inverurie.
---
---
Councillor Berry said: "Blythewood was on the market for sale and it doesn't help a cash-strapped council that one of their assets was devalued by mindless vandalism.
"Due to the Scottish Government imposing business rates on empty buildings now, the council is often forced to take the less costly decision to demolish a building rather than continue to pay business rates.
"Given the fire damage to the building, finding a buyer was never going to be easy, so unfortunately, due to the mindless vandalism, we have been forced to take an economic decision and save ourselves money rather than wait indefinitely for a buyer to appear."
A spokeswoman for the council said: "Demolition started on October 8 for a nine-week contract to be finished before Christmas."
A Scottish Government spokeswoman said: "Blythewood Care home had its rateable value reduced to 0 by the independent assessor on 22 April 2018 and therefore has not been liable for rates since that date.
"Local authorities keep every penny of non-domestic rates.
"The Scottish Government also has the most generous rates relief package anywhere in the UK, worth £732 million in 2018-19, including empty property relief which is more generous than that offered by the UK Government."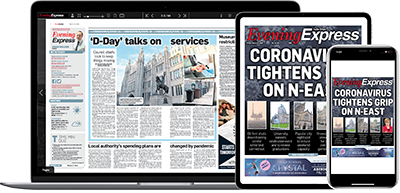 Help support quality local journalism … become a digital subscriber to the Evening Express
For as little as £5.99 a month you can access all of our content, including Premium articles.
Subscribe