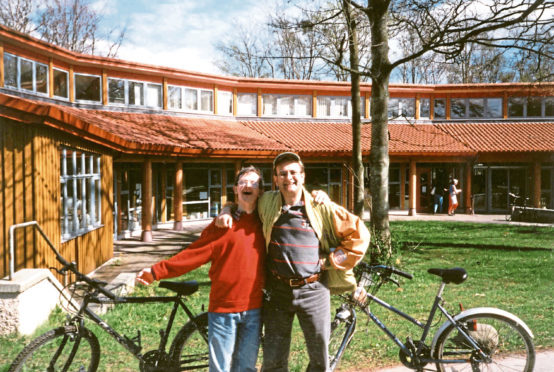 Former children's TV star Timmy Mallett has said it is an "awful irony" his bike was stolen from his local village after he had cycled thousands of miles across Europe on it in memory of his late brother, who lived in Aberdeen.
Timmy, 62, said the bike had been his "best pal" during his pilgrimage on the Camino de Santiago in Spain.
The entertainer embarked on the trip five days after his brother Martin, who had Down's Syndrome and later suffered from dementia, died in Aberdeen aged 64.
However, on Friday evening, after returning from the pilgrimage – which got the seal of approval from Prime Minister Theresa May who is Timmy's MP – the bike was stolen as the entertainer sat with friends at his local, the Kings Arms in Cookham, Berkshire.
The Wide Awake Club star has appealed for help on social media and said: "Martin would have been 65 tomorrow and the loveliest thing would be to get the bike back for then."
And Timmy, who is offering what he described as a "substantial reward" for the bike's return, added: "The irony is so awful. You can take it all over the world and yet at home it was not safe at the local village, in the lovely local pub."
He said: "I'm heartbroken. It's more than just a bike to me. This bike I've cycled with 2,500 miles, halfway across Europe.
"I'm devastated to lose something so special."
"I'm appealing to somebody's good nature to do the right thing.
"Whoever took this had no idea how important it is and they could never have known," he said of the Giant E bike, which Timmy said he called Martin.
He said of the trip: "It was all about reaching your potential. My brother did that every day. Even with language and learning difficulties he made the most of each and every day."
Martin spent his final few months at Fairview House care home in Danestone, after having lived for 30 years at Newton Dee Village. His funeral was held at St Devenicks Church in Bieldside on March 13.
Timmy said: "Aberdeen and Newton Dee made him sparkle."
He added said that anyone who knows the whereabouts of the bike can contact database BikeRegister.