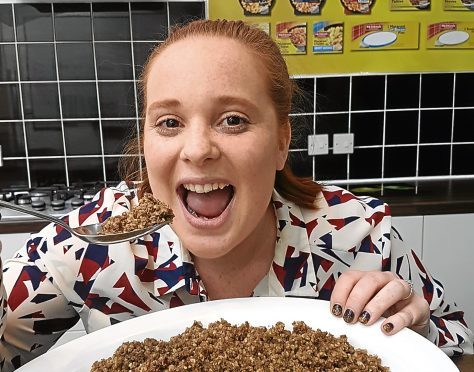 Fans of Scotland's national dish are being urged to tuck into the North-east's first haggis-eating competition.
McIntosh of Strathmore recently launched the contest, which takes place at Taste of Grampian next month, and is on the hunt for individuals with an appetite for the challenge.
A first at this year's festival, it will see eight people compete to eat one pound of cooked haggis in the fastest time possible.
However, anyone with the stomach for the challenge will have to be quick to sign up as competitors will be selected on a first-come-first-served basis.
Those too late to make the cut will be put on a waiting list.
The eating contest will take place at 3.15pm on the main stage at Taste of Grampian on Saturday, June 3, at Thainstone Exchange.
The winner will be awarded a trophy and crowned Taste of Grampian Haggis Eating Champion 2017.
It's hoped they might beat the McIntosh record for the fastest time which stands at 1 minute 34 seconds.
The current record was set at the Loch Lomond Food and Drink Festival.
Taste of Grampian, which is expected to see around 14,000 people attend the event, organises a foodie competition with McIntosh of Strathmore every year.
Sarah McDonald, the company's marketing manager, said: "The competition is all about speed and it's quite a lot of haggis to eat but it will be great fun for all involved.
"We'll have a compere who will put the contestants through their paces and the audience will no doubt be cheering them all on.
"We're looking forward to putting the public to the test and can't wait to see if someone from the North-east can beat the quickest time."
For more information or to buy tickets to the festival visit www.tasteofgrampian.co.uk.
To sign up to the haggis eating challenge visit www.mcintoshfoods.com/haggis-2017-tog