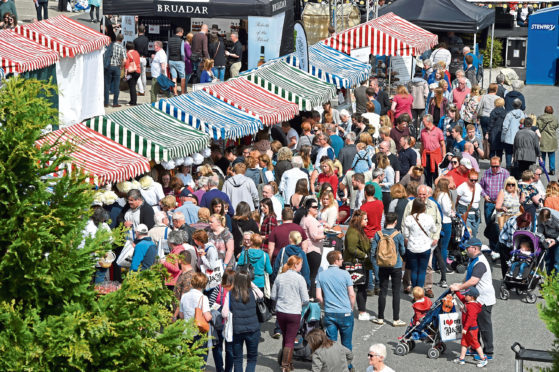 Organisers of an award-winning food and drink festival say this year's event will be the biggest yet.
The team behind Taste of Grampian has revealed that the food, drink and craft stalls offered at the festival have been fully booked.
The event, to be held on June 2, will feature produce from such local businesses as Castleton Farm Shop, Walker's Shortbread and Mackie's of Scotland.
Organiser Carol Fowler said: "It's grown due to demand, the festival seems to have a life of its own.
"We are so pleased with how it's going so far – it looks like it will be our biggest yet.
"We have this fantastic produce that maybe not everyone knows about, that is right on our doorstep."
Sponsorship from NorthLink Ferries will subsidise travel for visitors with the festival poised to host more businesses from further afield than before.
Carol added: "We will have homemade food produce from businesses in Orkney and Shetland too."
Last year's festival hosted 183 stalls but this time that will jump to offerings from 201 exhibitors.
Taste of Grampian 2018 will also tie in with the Scottish Government's initiative, Year of Young People.
Carol said: "We will have an aspiring chef competition where two young chefs will go head to head on the day, creating beautiful food.
"We will also have young people, aged between eight and 24, providing assistance to those hosting cookery demonstrations at the event."
The festival, which takes place at the Thainstone Centre in Inverurie, will also feature a motor show, gin and wine masterclasses, buskers and children's entertainment. Efforts will also be made during the celebration to tackle the issue of waste.
Carol added: "We will have bin monitors ensuring people know where the bins are and what can be recycled at the festival."