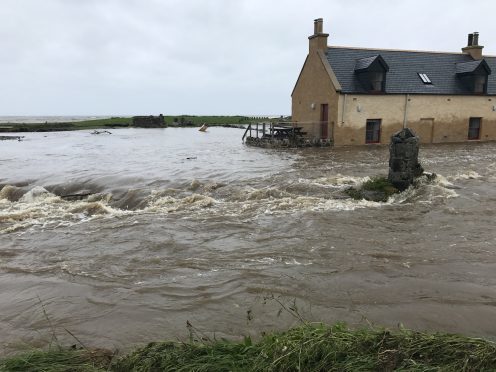 Residents of an Aberdeenshire village have been left devastated after flooding hit homes and businesses.
Water levels rose as heavy rain and strong winds hit the North-east, leading to residents being forced from their homes.
One of the affected homes in Portsoy belongs to Ada Gerrie, 52, who lives on Soy Avenue and had to leave her house yesterday morning through the sitting room window after flood waters meant she couldn't leave by the front door.
Workers from the council's flood risk and protection team managed to get her two grandchildren Caitlin, 9, and Tia, 6 out of the house earlier, but by the time she left, the water was already up to her knees.
Ada said: "My poor dog was terrified. I tried to save some stuff by throwing it on my bed, but I don't know if it's gone further up now.
"My sister came and picked (my grandkids) up. I don't like leaving my house you know, you try to salvage what you can. I had nowhere to put it, the water was getting too high and my dog was scared.
"About 11.15am, everybody was still in their houses. Nobody was evacuated out.
"I just really want to go back round and have a look again. I need to go and see if there's any clothes I can get, because we're all just in our pyjamas.
"It took me a year to get the house from the flood before up and ready. I don't know where we're going to go or anything. We've lost everything."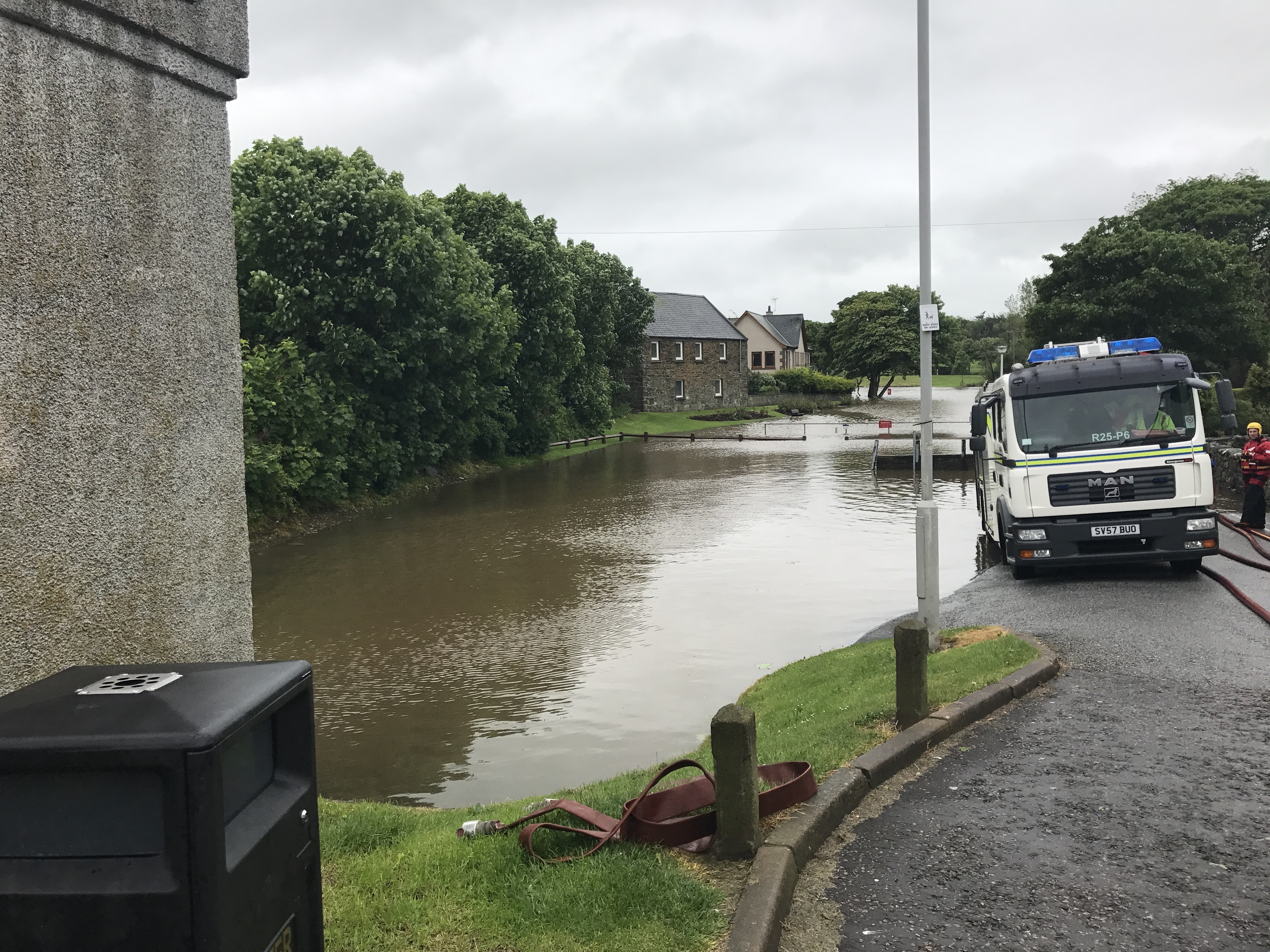 Ada said the whole incident seemed to unfold "in the blink of an eye".
She said: "It was raining, and it was awfully windy but I never noticed anything.
"There was nothing and then I went to make a cup of coffee and it was just running down the door. You can't do anything.
"It's all over the floor. They said it's going to come back again. I've got wooden flooring and it's all up in the water, and I've just bought a new fridge freezer and a new cooker and it's in the water.
"What's really getting to me is everything can be replaced, but I got that house two days before my mum died and she had left money for me. It's all gone. I've got nothing to show now."
Nearby, the new Sail Loft Bunkhouse, which is due to be officially opened by Prince Charles on Tuesday, was also affected by the heavy rainfall – with one of the roads on site disintegrated.
All guests were safely evacuated and the accommodation part of the building has not been affected by the water due to being designed with a flood system in place.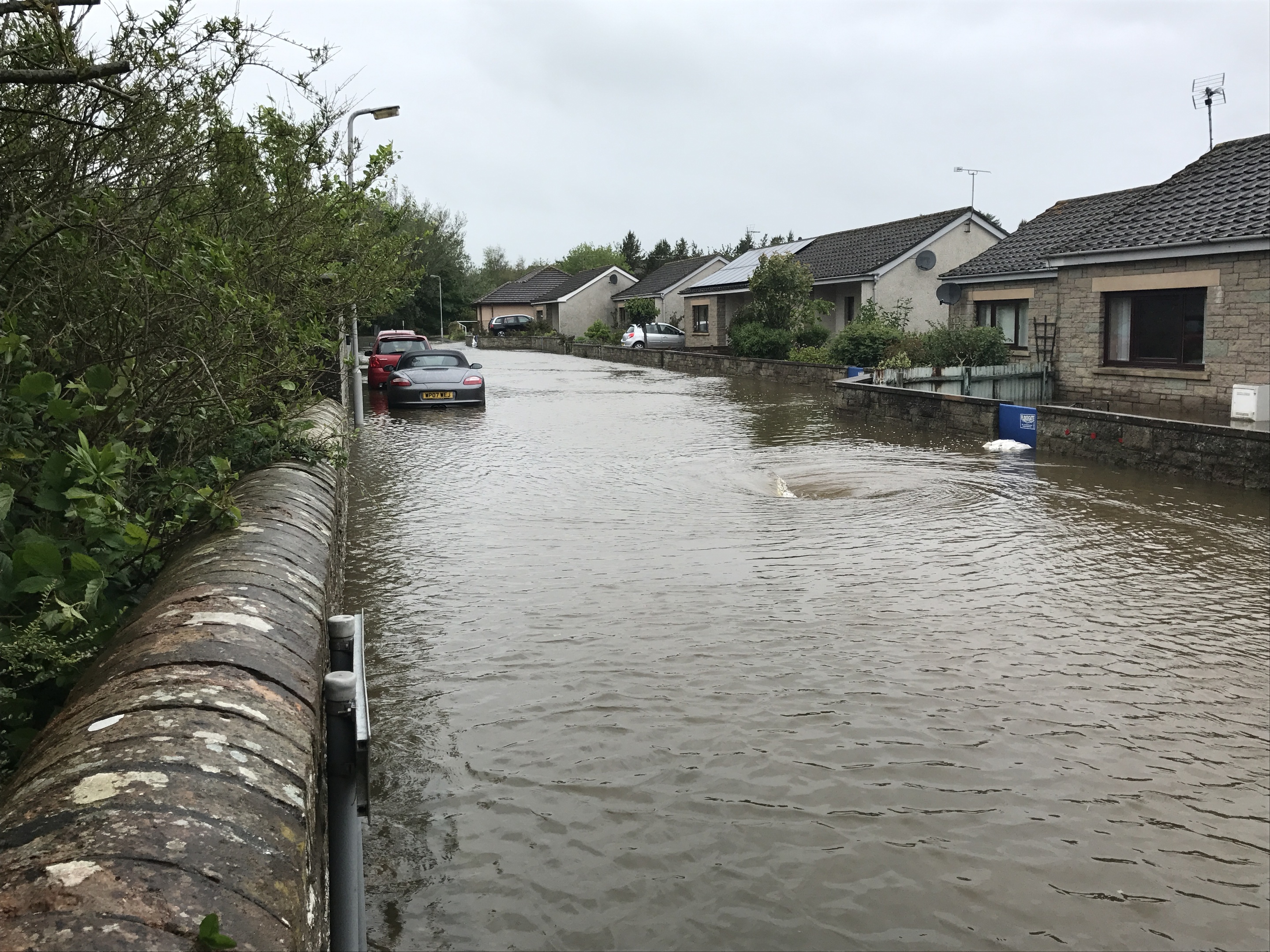 Chairman of the Sail Loft Bunkhouse Rodger Goodyear said: "At this point in time (the opening) will still be happening. There is good news, the damage looks much worse from the outside than it did in the inside. The damage was much less than we feared.
"The problem is that the road is gone. There's a 27-metre section that is gone. That's a relatively easy thing to put right, but time with the opening next week is going to be interesting.
"We feel more sorry for the people who had to evacuate their homes."
As reported in later editions of yesterday's Evening Express, at least six properties and a care home were hit by the flooding.
Four Aberdeenshire schools were also forced to close due to the adverse conditions.
Fordyce, Ordiquhill, Portsoy and Whitehills schools were closed and there were changes made to school transport routes to Inverurie Academy due to localised flooding. Gordon Schools in Huntly had to cancel transport for pupils in Corse, Drumblade and Marnoch near Banff due to flooding.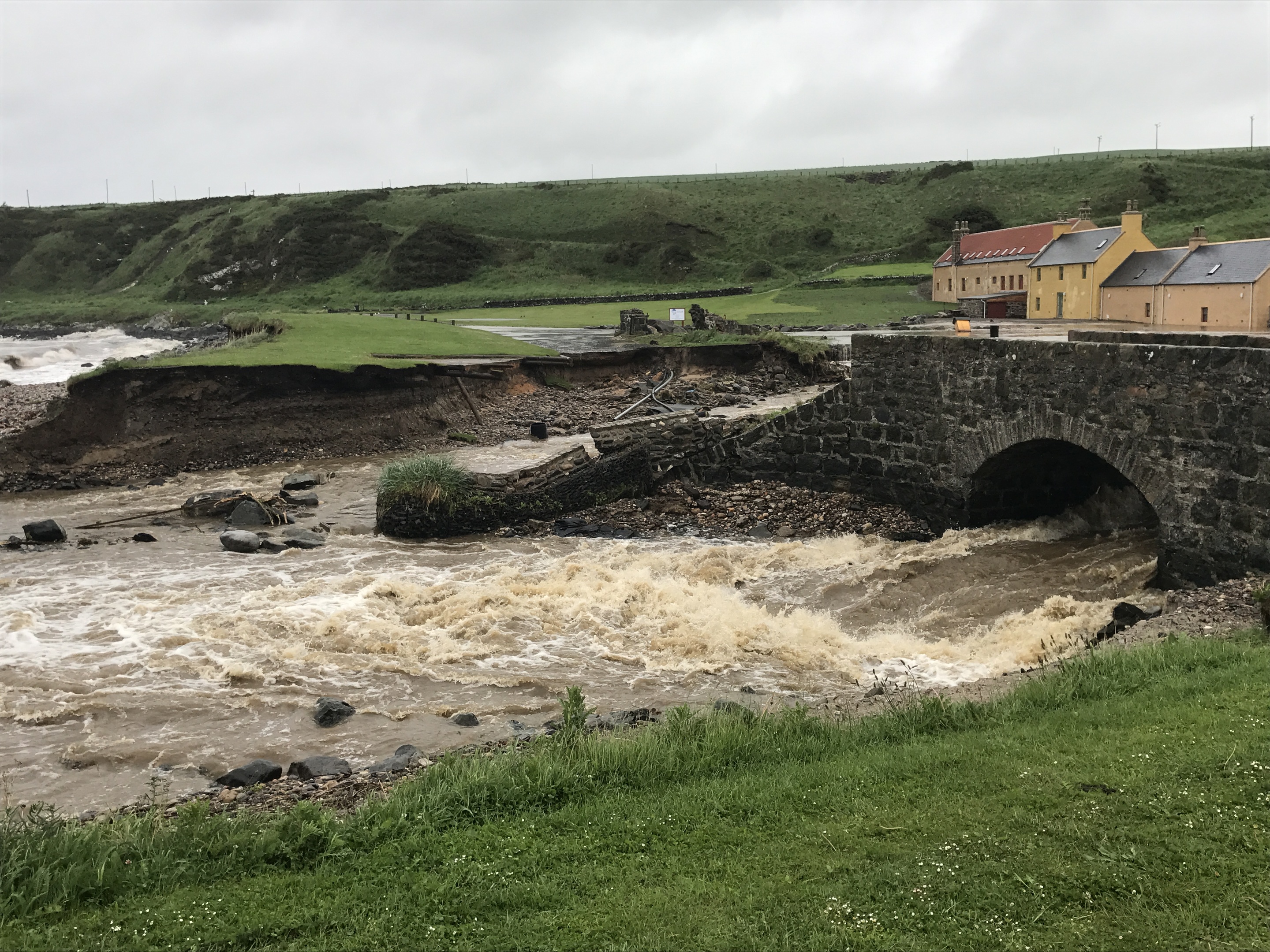 Loch Soy was also badly hit, several fire engines were in attendance with a high volume pump to drain the excess water, closing off part of the road.
David Meldrum, group manager for Aberdeenshire and Moray for the Scottish Fire and Rescue Service, said: "At the height of the incident we had around 20 firefighters in attendance.
"This was including our high volume pump that is based in Elgin. Three people, including two children, over two properties were evacuated from buildings and were led to safety by the crews.
The high volume pump was requested for the flooding at 11.30am, and was used to pump 5,000 litres of water a minute from the overflowing Loch Soy over a kilometre away to Portsoy Harbour.
David added: "Our crews worked hard and tirelessly to make sure that people and properties were protected and safe during the incident.
"This was a great example of our teams being able to respond to an incident and reassure the public and assist with leading them to safety."